Mila is a Jack Russell terrier who lives with Becky Merritt, executive assistant for Peter Fardy, vice president, Advancement.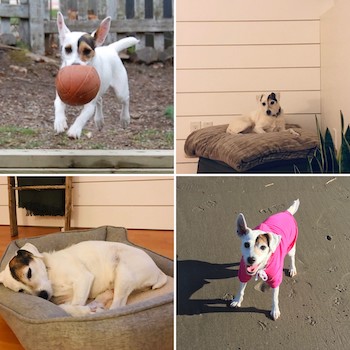 Name: Mila
Nickname: My Mila or Mila May
Age: 13 but occasionally will have a burst of energy and you will swear she is 3 again.
Species/breed: Jack Russell terrier. I never met the father but Mila's mother was a Jack Russell terrier and the father must have been part kangaroo based on Mila's jumping skills!
Fav food: Unfortunately, Mila was recently diagnosed with acute pancreatitis resulting in a very strict diet. When she could eat her favorite things she would always try and get into cans of Bud light, cheese and watermelon rinds. I wonder what started her pancreatic attacks?
Special tricks: Mila is hands down the best day napper, seat stealer and sun-worshipper out there.  
Best quality: Her love for a good game of fetch. She is still the fastest dog in the neighborhood at retrieving a ball
Social media platform or handle, if available: Mila sleeps far too much to be bothered with social media.