Winston is a dog who lives with Sheila Blair-Reid, assistant vice-president, alumni and external engagement in the Office of Advancement.

Name: Winston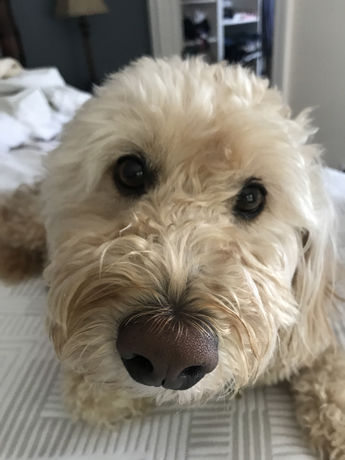 Nickname: Winney

Species/breed: Mini Golden Doodle

Age: 8

Fave Food: Steak – expensive steak - grass-fed, preferably. LOL

Special Tricks: Although Winston has a series of traditional dog tricks, his best talent is being a love sponge. He never misses a family hug, insists on sleeping between David and I and wants nothing more than to be with you — no matter what we are doing. He is a wonderful companion during COVID for sure.

Best quality: Winston can run for hours as we run, ski or hike. He doesn't shed which helps me to love him more. He remembers my son, who lives in Toronto, like he was here yesterday every time we get to be together. The same applies to my parents. He somehow knows his people! Finally, Winston takes his job seriously of spreading joy. People can't help but smile when they encounter this loving pooch. He is my first dog and now I can't imagine not having a dog forever. My husband and daughter convinced me and now I am a crazy dog lover.  I used to make fun of those people — I can't anymore!
Social media platform or handle, if available: N/A

Don't forget to check out the previous pets we've featured in this space this month — Penny, Toby, Lily and Luna, Moo-Joe, Mudkip, Rocky, Angus, Metadata Futurecat, Tobi Ezkiel and Cider — as well as pets from previous months:

The month in pets: January

The month in pets: February

The month in pets: March

The month in pets: April