Today@Dal
»
Go to news main
Pets of Dalhousie: Meet Angus Bear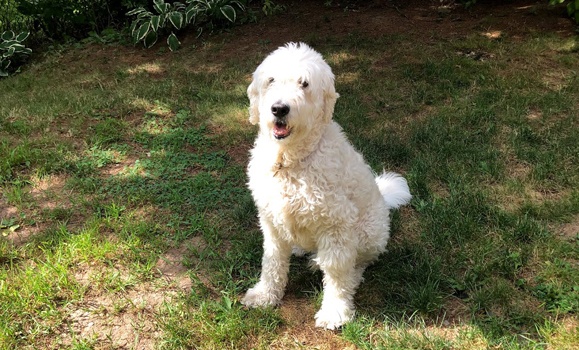 Angus Bear is a dog who lives with Manjula Devaraj, senior manager of web projects and development with Information Technology Services.

Name: Angus Bear, named after Angus Young (yes, I love ACDC).
 
Nickname: Angus Fangus, Angus Butthead
 
Species/breed: He's a 70 lb male Golden Doodle. He was the last of an "accidental" litter with a gorgeous Golden Retriever mom, and a black Regular Poodle dad, who was a show dog.  When I went to see him for the first time, he promptly picked out my shoes from the porch and dropped them at my feet with a look that said, "You are my mom now, lets go home!". (We don't talk about the "accident" part in front of him, cos he was made out of love and that's what counts)
 
Age: 11.5 years and so healthy! Lazy for the most part, but when there is food involved, he is a puppy again!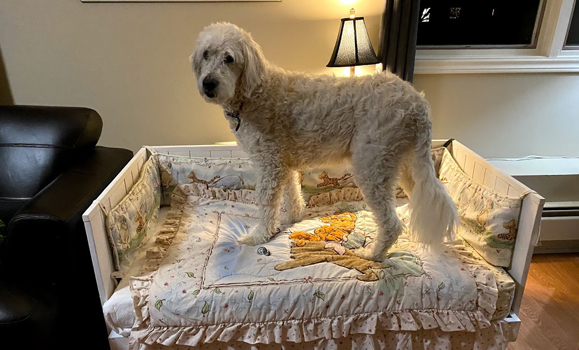 Fave food: Anything we cook for him, especially a good beef tenderloin – he gets no kibble – everything is made from scratch every day!  He does love a Tim Bit for a treat 😉

Special tricks: Angus does the usual paw, high five, sit and lay down. However, his most special trick and quality is knowing when there is someone near that is sick or distressed. He will nuzzle up and remain close, always looking caringly and protecting that person. He has been my emotional therapy dog, and also there for my dear friend who has since passed from cancer.
 
Best quality: He is just such a chill and relaxed dog. He won't jump or lick you. He just wants love, lots of rubs and snuggles. Oh, and I'm pretty sure he thinks he is human as he barely tolerates other dogs — ignores them for the most part.

Don't forget to check out the previous pets we've featured in this space this month — Penny, Toby, Lily and Luna, Moo-Joe, Mudkip and Rocky — as well as pets from previous months:

The month in pets: January

The month in pets: February

The month in pets: March

The month in pets: April