Name: Tobi Ezkiel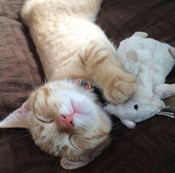 Nickname: Toots McGee or Dingus McGonagall

Species/breed: Orange Tabby

Age: 4 years old

Fave Food: Soft and Dry Cat Food and the occasional bird.

Special Tricks: We have attempted to train without success.

Best quality: Tobi is a creature of habit.  While he is alittle bit spicy at times, he is also affectionate and defends his territory.  He is loved by the neighbors and is a "people's" cat.  He doesn't like other cats.  He rules the house completely and is completely spoiled by his human pets.

Social media platform or handle, if available: Only known by the locals.