Today@Dal
»
Go to news main
Pets of Dalhousie: Meet Rocky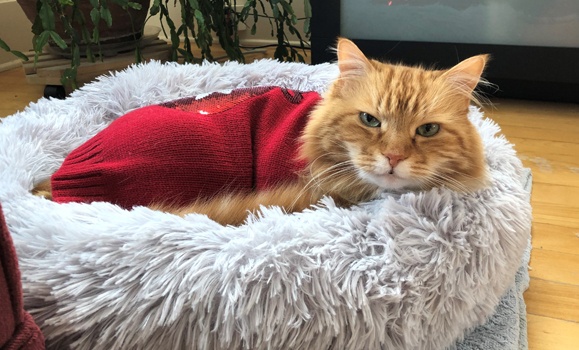 Rocky is a kitty who lives with Mary Ann Robinson, managing director of the Continuing Professional Development & Division of Medical Education in the Faculty of Medicine.
Name: Rocky

Nickname(s): The Rock, Rocker, Rockster, Bubbas, Mr. Fluffy Pants (he likely doesn't know his real name !!!)
 
Species: Orange Tabby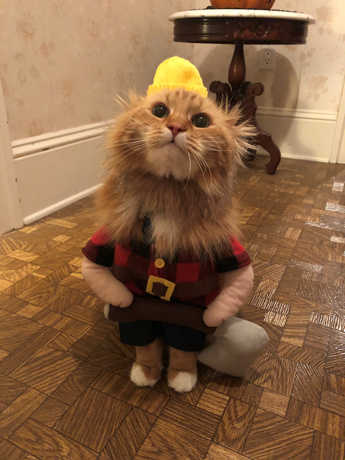 Age: 13

Fave foods: Anything served at lunch. This is a new phenomenon for Rocky and one he's come to learn about during COVID. I'm sure he thinks we've been holding out on him for the past 12 years. Prior to working remotely, we would feed him breakfast when we left for work and school in the morning, then feed him supper immediately upon our return at the end of the day. Now with us working remotely and eating lunch at home, he's discovered this new meal that falls nicely between his morning and afternoon naps.  He does enjoy chicken, cheese, and that last little bit of melted ice cream in someone's bowl.

Special tricks: He will sit for his treats. He will also squawk when he's hungry, which is typically around 0700, 1200 and 1600 daily.  He will occasionally tolerate wearing costumes.

Best quality: He is so loving and affectionate and gives the best kitty kisses.  He's happiest when cradled like a baby, and will often reach his paws out to someone else nearby for their turn to hold him.
 
Social media platform or handle, if available: Rocky is looking for a new publicist . . .
 

Don't forget to check out the previous pets we've featured in this space this month — Penny, Toby, Lily and Luna, Moo-Joe and Mudkip— as well as pets from previous months:

The month in pets: January

The month in pets: February

The month in pets: March

The month in pets: April