Mike Lumsden
Spectroscopist
Coordinator, Nuclear Magnetic Resonance Research Resource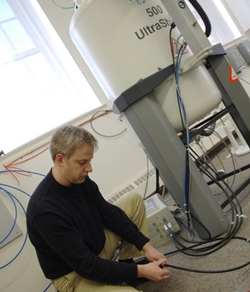 Education
B.Sc. (Chemistry), Dalhousie University, 1991
Ph.D. (Chemistry), Dalhousie University, 1995
Career Path
I began working as a NMR technologist and after seven years became Coordinator of the NMR facility at Dalhousie University. During this time, my responsibilities evolved from acquiring NMR experiments and dealing with technical issues to being more heavily involved with supervising technical staff, problem-solving, and working in a collaborative manner on a variety of research projects.
Chemistry in Action
As the Coordinator of an NMR facility, I enjoy the diversity in the research problems that my career exposes me to.  As a chemist in general, I thrive on the challenge of trying to understand the microscopic world and how it is fundamental in understanding our macroscopic world. And even more generally, as a scientist, I appreciate how science shapes you as an individual and prepares you for everyday life, both inside and outside of the work place.
Last Words
If you are organized, methodical, enjoy problem-solving, and often find yourself asking questions about Mother Nature such as "I wonder how that process works" or "I wonder why that happened", I encourage you to consider choosing Chemistry as a major: these are "hints", in my experience, that Chemistry may be right for you. I acted on these hints upon graduating from High School by choosing Chemistry as a major and ultimately launched a very rewarding and challenging career, I encourage you to do the same!