Kevin Bateman
Distinguished Senior Investigator
Merck & Co., Inc., Merck/Frosst, Montreal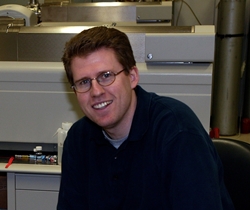 Education
B.Sc. (Chemistry) and B.Ed., Dalhousie University, 1991
M.Sc. (Chemistry), University of Waterloo, 1993
Ph.D. (Analytical Chemistry), Dalhousie University, 1997

Career Path
I joined Merck Frosst a month after defending my Ph.D. and have been with Merck ever since. I started as a Visiting Scientist for the first four months and then became a Senior Research Chemist. In 2000 I was promoted to Research Fellow, in 2004 to Senior Research Fellow and in 2007 to Distinguished Senior Investigator. I started as a bench scientist in the lab and continue to spend time in the lab today, although not as much as I would like! Early on, I provided data to support research programs. With promotion, I directed people in the lab, and reviewed their data, and also worked on project teams. Currently, I am responsible for the bioanalytical research strategy in the Drug Metabolism and Pharmacokinetics (DMPK) department at Merck. This is a global position, so I often travel to other Merck sites. My job is to keep Merck DMPK at the leading edge in bioanalysis and to make sure we have efficient processes in place across the labs.
Chemistry in Action
My training in chemistry gives me a broad understanding of science, and this has been incredibly useful in the pharmaceutical industry. The projects we work on span many disciplines, not just chemistry. I attend meetings with chemists, biologists and pharmacologists talking about science.  The principles of chemistry come up all the time when discussing things like receptor binding, drug solubility, biotransformations, etc.  It's amazing that concepts like acid-base chemistry and pH come up almost daily. Using chemistry to have an impact on drug discovery is a real privilege. Compounds that I worked on in the lab now have a positive impact on people's lives – this satisfaction gets me heading to the lab early every day!
Last words
Just do it!  Having a solid background in chemistry is powerful. Everyday life is driven by chemistry and you can have an impact applying this knowledge in a real world setting.