Claire Horne
The Product Manager

Johnson&Johnson Medical Products, Toronto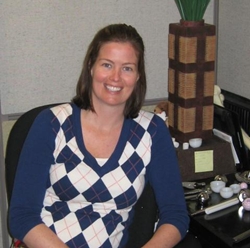 Education
B.Sc. (Chemistry and Biology), Dalhousie University, 2001
M.Sc. (Pharmacology), Dalhousie University, 2003
MBA, Dalhousie University, 2005
Career Path
In 2005 I started as a Marketing Associate for Johnson&Johnson Pharmaceuticals, and in 2007 I became an Associate Product Manager for Hips at Zimmer of Canada, a world leader in Orthopaedic products. In 2008 I returned to Johnson&Johnson as a Product Manager for the Hip Portfolio, this time on the medical device side of the company.
After graduating with an undergraduate degree in Chemistry and Biology, I decided to pursue a Master's degree in Science. I enjoyed the core science of chemistry, but was also interested in the applied sciences, and pharmacology was a natural extension of both chemistry and biology. At that time the business side of science began to interest me, and I decided to broaden my experience with a degree in Business with the hope of using both my scientific training and business knowledge and skills to get a job in the medical device field. After graduating from the MBA in 2005, I began my career in 'medical marketing', first joining a pharmaceutical company. Although my chemistry and pharmacology were very useful to understanding the biochemistry of pharmaceuticals, I wanted to broaden my experience again into the medical device industry, which requires both a sound understanding of science and the body, and also a sharp business acumen in a very competitive environment. Johnson&Johnson is the top healthcare company in the world, offering services ranging from consumer products, to pharmaceuticals, to a full line of medical devices and diagnostic equipments, all used in hospitals, doctor's offices, and households around the world. Without the top-quality education I received at Dalhousie, including a sound scientific core training in Chemistry, I wouldn't have had the opportunity to work for such a great company, or have the opportunity to expand and define my own career moving forward.
Chemistry in Action
Although I don't actively use chemistry in my day-to-day job as a chemist would, the training I received allows me to fully understand any scientific journal articles I read, and also allows me to simplify or highlight the important aspects of a science-based body of information so that it may be effectively transferred to colleagues, patients, sales representatives, and healthcare professionals. My core training in chemistry also gives me an ability to challenge the experimental methods used to come to a conclusion and objectively evaluate any scientific information I receive. Although I went on to earn a degree in Business, my training as a scientist stays with me every day and guides my approach to problems, opportunities, and decision-making in general.
Last Words
Earning a degree in Chemistry gave me the core scientific skills required to go to the next level of education. Dalhousie's program is both challenging and demanding, but also provides you with a sense of accomplishment and confidence that you can achieve whatever career path you choose.