Monique Guilderson
Medical/Scientific Illustrator

Maritime Medical Design, Halifax, Nova Scotia,
www.maritimemedicaldesign.com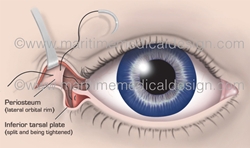 Education
B.Sc. (Chemistry and Biology), Dalhousie University, 1997
Design Fundamentals Certificate, Georgian College, Barrie, Ontario, 1998
M.Sc. (Biomedical Communications), Department of Surgery, Faculty of Medicine, University of Toronto, 2000
Career Path
Upon graduating from the University of Toronto I became a course instructor in the School of Continuing Education. I then became a medical illustrator with BC Decker Publishing Inc in Hamilton, Ontario. Since 2001 I have been a medical illustrator and designer with Maritime Medical Design, a company that I own and operate. I am involved in medical and scientific illustration, multimedia design and animations.
Chemistry in Action
For my job, having a thorough knowledge of chemical structures, how they interact and how they are visually represented has been a great asset. Over the years, it has helped me to communicate with my clients and has enhanced my skills as an illustrator.
Last Words
A degree in chemistry can be challenging but it's very interesting and it's a great foundation for whatever career path you choose.