Vaughn Arthur
Analytical Technician

Canadian Food Inspection Agency, Dartmouth, NS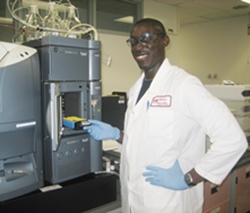 Education
B.Sc. (Chemistry with Cooperative Education), Dalhousie University, 2008
Career Path
I was fortunate enough to find a career with the Canadian Food Inspection Agency (CFIA) very soon after graduating in May 2008. I attribute a lot of that success to having gone through the co-op program, which helped me to figure out what exactly I would like to pursue with my degree, and to realize the skills I would need to achieve my chosen career. I started out as a term employee with the CFIA, learning methods for routine analysis of toxins in shellfish. Since then, I have become responsible for the analyses of different food types, and I have been given more duties with reporting and assessing the quality assurance measures of our laboratory's procedures. Everyday I feel lucky to be working in a great environment that allows its employees flexibility to find a work-life balance, and promotes constant opportunity for the career growth of individuals.
Chemistry in Action
Mostly I enjoy the ability to understand properties of materials and to use that knowledge to enlighten others. Also it is exciting to know that a chemistry degree opens up so many different types of career paths.
Last Words
For anyone considering whether to choose to major in chemistry, I would recommend that they make sure they have perseverance. It is more challenging than other programs because of the added laboratory commitments with regular classes. In the end, it is rewarding that the skills learned throughout a chemistry degree provide a good foundation for work in any area of science or even administration. However, it is important that as a chemistry major you keep your focus on the career path you would most enjoy so that you can take advantage of the opportunities that exist.