Erin Power
Dentist
Dentistry student, Dalhousie University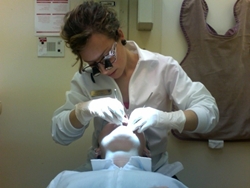 Education
B.Sc. (Chemistry), Dalhousie University, 2006
DDS, Dalhousie University, in progress, to be completed in May 2011 
Career Path
Since graduating with my degree in chemistry I worked as an Interim Undergraduate Secretary in the Dalhousie Faculty of Nursing (summers of 2006, 2007 and 2008). As a dental student I have a whole new set of responsibilities that go along with treating patients. It is my job to study and keep up with hands-on practice so that I will have the knowledge and skills necessary in the clinic. I am entrusted with confidential patient information and have the opportunity to teach and motivate patients about their oral health.
Chemistry in Action
Although I am not using my chemistry degree directly I do use it indirectly everyday when deciding which materials are best suited for use in the oral cavity… the mouth! It is important to know how a given material will react upon exposure to saliva, powerful chewing forces, acidic foods, etc. It is also important to know how long the setting time for a given material is and how much heat will be given off. For example, a compound that liberates a lot of heat during setting could cause a tooth to die, which is clearly undesired! A great deal of research goes into the selection of materials that will be both biocompatible and long-lasting.  Many filling and impression materials are mixed at the chair-side by the dentist, so in a way I will be an applied chemist throughout my career! New compounds are introduced into the clinic at an amazing rate – it is my job to understand the chemistry in order to make an informed choice and provide my patients with the best care possible.
Last Words
Chemistry is an exciting and challenging subject where you will learn about everything from designing and making new drugs to the effects of chemicals on our environment. You will certainly put in some hard work but you will not go unrewarded. If you can be successful in a chemistry program then I think you are cut out to do any career you choose! During my degree I had the opportunity to spend my summers as a research assistant in an organic chemistry lab where I learned new skills daily and through group meetings was constantly challenged to apply what I'd learned. By choosing to major in chemistry you will keep all your career options open, you'll develop a wealth of life-long knowledge and skills, and of course meet some wonderful people along the way!