Eric Bond
Technical Officer
Certified Reference Materials Program, NRC Institute for Marine Biosciences, Halifax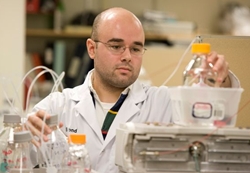 Education
B.Sc. (Hons Co-op in Chemistry and Economics), Dalhousie University, 2008
Career Path
This is my first job following graduation. During my studies, I held a progression of co-op work-terms: Dalhousie Unversity (organic synthesis), University of Victoria (organometallic synthesis), Merck Frosst Canada (Montreal; organic synthesis), and the Max Planck Institute for Molecular Physiology (Dortmund, Germany; organic/analytical). The emphasis changed from preparative synthetic chemistry to more of an analytical focus.
Chemistry in Action
A degree in Chemistry provides a diverse skill set that is useful beyond the specific knowledge of the field itself: analytical/critical thinking, problem solving, and research skills are all valuable no matter where you work –employers know this. Science degrees teach you how to think and are thus quite flexible – what you think about can be quite a diverse range of topics and can change between jobs, projects, or even on a daily basis.
Last Words
Co-op is an extremely valuable experience, particularly in science, where how/what you learn in the classroom and how you actually apply your knowledge in the workplace can be quite different. Work-terms during a Chemistry degree can help you select your courses and your specialization within the discipline (organic, analytical, etc.), all the while allowing you to evaluate the different types of jobs/career paths available and whether this is the field is for you before you graduate.