Alan Doucette
Professor
Department of Chemistry, Dalhousie University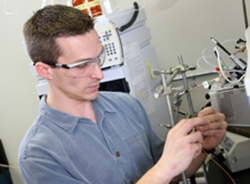 Education
B.Sc. (Hons Chemistry), Dalhousie University, 1997
Ph.D. (Chemistry), University of Alberta, 2002, (Supervisor: Dr. Liang Li; Development of Enabling Sample Preparation Methods for Proteome Analysis by Mass Spectrometry) Postdoctoral Fellowship at the Cross Cancer Institute (Edmonton), Dept of Oncology, (Dr. Carol Cass), 2004.
Career Path
After completing a post-doctoral fellowship I returned to Nova Scotia in 2004 and became an Assistant Professor of Chemistry at Dalhousie University. In 2009 I was promoted to Associate Professor. Early focus was to put together a research lab, with responsibility to teaching and departmental committee work too. My role as a teaching academic has grown over the years, as has my commitment to responsibilities such as academic advising, and Outreach (e.g., visits to schools, Brownies, participation in National Chemistry Week). The basic message: to teach chemistry to undergraduates and graduate students, and to expose others to chemistry.
Chemistry in Action
The usual response I get when I tell someone that I am a chemistry professor is this: "I remember chemistry… I didn't understand it!" The truth of the matter is this: whether you understand it or not, figuring it all out is half the fun! Chemistry is more than a bunch of rules and facts, and much of the time the true explanations behind chemistry still remain a mystery. What I like most about my degree is that the mystery of chemistry never ends. The reason I chose this particular career is to satisfy a curiosity – to try and decipher things where nobody else could. As a professor I try to pass on this curiosity to students, be it in our lab, the class room, or during a Chemistry Magic Show.
Last Words
Chemistry is an endless subject – there's something in it for everyone. As you consider a major in chemistry, realize that not everything is taught in Year 1.  As you progress through your studies you will uncover aspects of chemistry that you didn't even know were possible! Stick with it, and you will find a side of chemistry that speaks directly to you.