News
»
Go to news main
Professors Iftene and Hadskis Awarded Schulich Law's Top Teaching Honours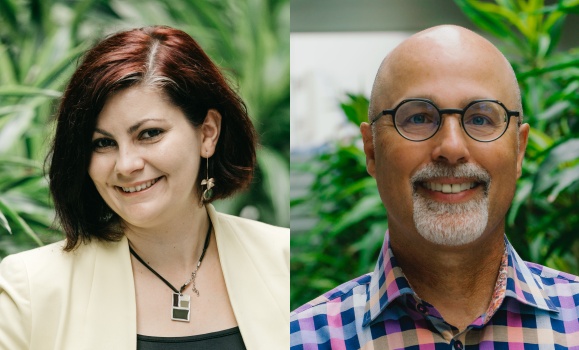 Exceptional teaching is at the heart of Schulich Law's mission. The winners of this year's Teaching Awards exemplify the importance of providing a first-class legal education, while making students feel supported in the classroom and beyond.
DLAA & LSS Award for Excellence in Teaching Law – Adelina Iftene
This award is given in recognition and appreciation of excellence in teaching demonstrated by enthusiasm, commitment, dedication, and outstanding service to students. Nominations are made by current law students and a recipient is selected by a committee comprised of students and alumni.
This year's recipient, Professor Adelina Iftene, joined the law school community in 2017. She was also the recipient of The Hanna & Harold Barnett Award for Excellence in Teaching First Year Law in 2019.
"Writing a nomination letter and seeking signatures takes time and energy. Taking the time to do that is a beautiful recognition of the fact that in some small way I touched students' lives. That's an incredible honour. In addition, being selected to receive this award is an additional honour," says Iftene. "Schulich Law has a richness of teaching talent. I learned so much from my colleagues over the past few years - many of them have been remarkable teachers and mentors to me and I know they are to the students as well. In this context, receiving this award is even more humbling."
Iftene's teaching philosophy is not just about transfer of information. "It is about building and fostering relationships and being part of students' professional, and sometimes personal, journeys of discovery and growth during law school. In turn, each class and each student is part of my continuing journey of growing as a teacher and as a human. Thus, I approach teaching as relationship building that supports each of our journeys and growth."
She says the most rewarding part of teaching law is being a witness to students' journeys of becoming incredible, thoughtful, and caring legal professionals and seeing how the legal profession becomes better as each of her students joins it.
Camille Guthrie, third-year student and nominator, says that she cannot think of anyone more deserving of this honour. "Dr. Iftene exemplifies every trait and ability this award looks to recognize. She has a very clear dedication to and enthusiasm for teaching. In every course I have taken with her, the lectures have been thoughtfully presented and delivered in a very effective manner. She teaches in a way that makes students want to pay attention and learn. It is not just her lecturing styles and teaching methods that make her an exemplary professor though. She is by far the most kind and caring professor I have had. The Schulich School of Law is extremely lucky to have her."
Hannah and Harold Barnett Excellence in Teaching Award – Mike Hadskis
The Hannah and Harold Barnett Excellence in Teaching Award is given by the Law Students' Society to recognize a professor who teaches first-year law. Each first-year section collectively puts forward a nomination, and a winner is chosen by a committee of students.
This year's recipient, Professor Michael Hadskis, has been teaching at Dalhousie University at the undergraduate and graduate levels for the past 19 years. During this time, he has pursued his passion for interdisciplinary education by teaching students in Dalhousie's Faculties of Law (2004-present), Health (2010-present), and Medicine (2004-14), and by overseeing the delivery of the law curriculum in the Faculty of Dentistry (2004-14).
"Receiving this award is a high honour and marks the highlight of what has been a very professionally rewarding year of teaching tort law to a warm, bright, thoughtful, appreciative, and engaged group of students," says Hadskis.
He shares that his teaching philosophy strives to create a learning environment in which students feel supported, respected, heard, and engaged, and are a full partner in the learning process. "Such an environment is the linchpin to teaching effectiveness," he says. "I take measures to develop a learning community marked by cooperation among the students, approachability between the students and myself, and an appropriate level of lightheartedness."
He says the most rewarding part of teaching law is helping students grapple with difficult legal concepts and watching their confidence grow as they discover that they have the skills and aptitude to be effective legal professionals.
"I feel enormously privileged to have been able to contribute to student learning and to the law school's educational mission over the past 19 years," says Hadskis. "Not everyone finds a career that completely fulfills them – I am indeed fortunate to have done so."
First-year student and nominator, Juliet Watts, says that Professor Hadskis has gone above and beyond as a first-year professor. "He has made the content digestible and engaging but remained highly effective in teaching us how to tackle hypotheticals. The classroom energy is fun and humorous, while still taking the material seriously. He has made himself very accessible, particularly during exam period and following the grade release. He also set out to normalize the law school experience and often reminded us to keep things in perspective in this high pressure environment. His mastery of the material, widely loved teaching style and ever present kindness make him deserving of the award."