News
»
Go to news main
Schulich School of Law Hosts Workshop on Area‑Based Management Approaches for Shipping Risk Mitigation in Canada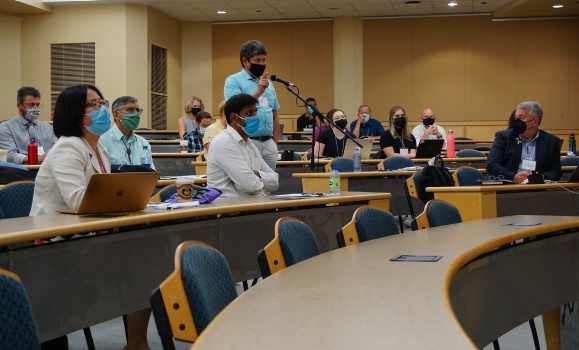 On August 30-31, 2022, the Schulich School of Law hosted a major workshop entitled "Shipping Risk Mitigation Research and Practice in Canada: Considering Area-Based Management Approaches." The co-convenors were Module N: Safe Navigation and Environment Protection, a research project based at the Marine & Environmental Law Institute and supported by a Canada First Research Excellence Fund grant held by the Ocean Frontier Institute, and the Clear Seas Centre for Responsible Marine Shipping (Clear Seas). The purpose of this workshop was to consider current and emerging practices of area-based management to mitigate the risks and impacts of shipping in Canada, and to learn from theory, research, and the experiences of practitioners, especially those of Indigenous rights-holders.
Schulich Law Professor Aldo Chircop, who is co-principal investigator of Module N and led the team organizing this workshop, highlighted that the event enabled academia to engage with the wider public and broadly disseminate the activity. Clear Seas Board Chair Murray Coolican emphasized the importance of the conversion that "brings all perspectives together for a better understanding on shipping risks and mitigation." Ocean Frontier Institute Scientific Director & CEO Anya Waite pointed out that knowledge co-production between the research and Indigenous community requires true collaboration, "it involves humility, and willingness to accept that often less is more." She also emphasized that knowledge co-production covers topics that are broadened to a range of views, which means the specificity that the research community focuses on needs to be loosened and opened up. This conversation needs to be facilitated through real, creative, collaborative and co-designed methods. Successful knowledge co-production depends on open, continuous, and arduous communication that requires persistence and time.
Kenneth Paul of the Wolastoqey First Nation in the community of Neqotkuk delivered a keynote speech on the frameworks of personal balance, societal balance and natural resources and sectorial balance management, which integrate into a methodological structure of governance for sustainability. He conceptualized the role of Indigenous knowledge systems and emphasized the importance of the "Two-eyed Seeing" approach, which echoed the purpose of this event.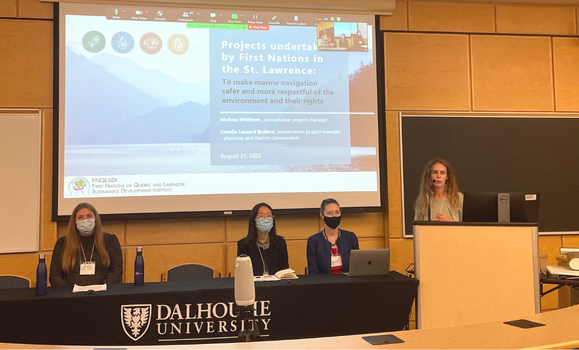 Mělissa Whittom presenting (Photo by Desai Shan)
Attended by 70 in-person and 80 online participants, the hybrid workshop consisted of two parts, each lasting a day. The first part examined the big picture of area-based management tools in response to particular risks posed by shipping. The second part focused on Indigenous perspectives and concerns over the interface between shipping and their rights and interests. There were 31 presentations in 8 sessions, with speakers from government, industry, non-government organizations, Indigenous communities, as well as Canadian and international academia. Speakers addressed in-person and online questions and comments. The final report will include guidance for policy directions concerning the interface between Indigenous rights and shipping in Canadian waters for communication to decision-makers. The recorded proceedings and final report will be shared on the Ocean Frontier Institute and Clear Seas websites.