News
»
Go to news main
Schulich Law appoints Richard Devlin as acting dean
Posted by
Trudi Smith
on July 10, 2020 in
News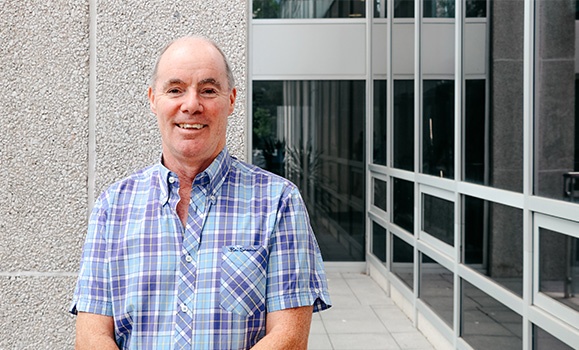 The Schulich School of Law is pleased to welcome Professor Richard Devlin as acting dean, effective July 6, 2020. He will be taking over for Dean Camille Cameron who is currently on medical leave.
In his new role, Devlin looks forward to working in collaboration with faculty, staff and students. "The foreseeable future holds many challenges for us, but I have full confidence that we, as a community, will respond with energy, good will, creativity and (when appropriate) some humour. Since its foundation in 1883, the Law School has experienced a number of significant hurdles but, as John Willis noted in his history of the Law School, we have always responded with industry, imagination and purpose. I have no doubt that we will do so again."
Devlin earned his LLB at Queen's University, Belfast and his LLM at Queen's University, Kingston and has been a faculty member off and on at the law school since 1987. He is one of this country's leading thinkers on legal theory, equality, legal ethics, judicial ethics and the regulation of the legal profession. A two-time winner of the law school's Hanna and Harold Barnett Award for Excellence in Teaching First Year Law, his areas of teaching include Contracts, Legal Ethics and Graduate Studies. He also received the Canadian Association of Law Teachers Award for Academic Excellence in 2008, and was the winner of Dalhousie University's Centre for Teaching and Learning "Change One Thing Challenge" in 2013. 
A Dalhousie University Research Professor since 2005, Devlin has published widely in various journals, both nationally and internationally. He has also edited a number of books including Critical Disability Theory, Lawyers' Ethics and Professional Regulation (3rd ed. 2017) and Regulating Judges: Beyond Independence and accountability (2017). His forthcoming book, with Professor Sheila Wildeman, is entitled Disciplining Judges: Contemporary Challenges and Controversies. He has been involved in the design, development and delivery of judicial education programs in Canada and abroad for more than 25 years. He became the founding president of the Canadian Association for Legal Ethics in 2012, and was named Chair of their Board of Directors in 2016. In 2015 he was elected as a Fellow of the Royal Society of Canada.