News
»
Go to news main
KUDOS! Professor Richard Devlin co‑edits the International Commission of Jurists Canada book "Canada and the Rule of Law"
Posted by
Jane Doucet
on August 11, 2017 in
News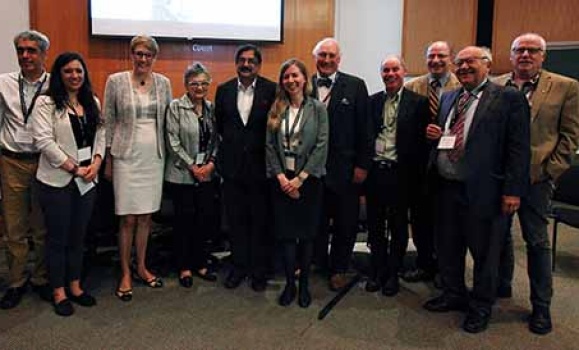 In early June, the International Commission of Jurists Canada (ICJC) published Canada and the Rule of Law: 150 Years after Confederation, a unique collection of 35 essays by jurists across the country to mark the 150th anniversary of Confederation. The book launch took place at the Realizing Rights Human Rights and Constitutionalism conference at the University of Ottawa, where Schulich School of Law Professors Richard Devlin and Sheila Wildeman presented on the Canadian Judicial Council's complaints and discipline process at the conference.
The Schulich School of Law contributed to the funding of the book's production, which took place quickly over a span of about six months. Devlin, who is on the ICJC's board of directors, was a co-editor and is pleased that the Schulich School of Law and Dalhousie had such a fruitful collaboration with the ICJC.
"We invited noted scholars from across Canada to talk about where we are 150 years on in accessible, short essays that were no more than 2,000 words," he says. "They cover a lot of territory across the themes, including historical, courts, Aboriginal and human rights, legal ethics, and discrimination."
It was important to the editors that the essay authors ranged from "senior established folks to new critical voices," says Devlin, who edited between 10 and 15 of the essays. Other contributors from our law school are alumni Alex Neve (LLB '87) and Pamela Palmater (LLM '99, JSD '09), former faculty member Colleen Sheppard, and honorary LLD recipient Mary Eberts ('02).
This book celebrates Canada's achievements, but it also recognizes that there's a long way to go and that our work is far from done. — Professor Richard Devlin
A common and "very conspicuous" thread throughout several of the essays is the acknowledgement of the failure to respond to the rights and interests of Indigenous peoples in Canada.
In her introduction, lead editor and ICJC executive director Janine Lespérance writes: "Many of the contributors to this book have a human rights-focused approach to the rule of law. They highlight that Canada's operationalization of the rule of law is imperfect, and that we must continually strive as a society to ensure laws (and the structures that uphold them) respect the rights of people who have been systemically marginalized, victimized, or discriminated against. We must ensure that our laws are just and inclusive in our era of diversity and rapid change."
The audience of Canada and the Rule of Law is intended for the general public, lawyers, and law students in particular. "This book celebrates Canada's achievements," says Devlin, "but it also recognizes that there's a long way to go and that our work is far from done."