News
»
Go to news main
2017 Convocation profile: Nicole Power
Posted by
Rachael Kelly
on May 22, 2017 in
News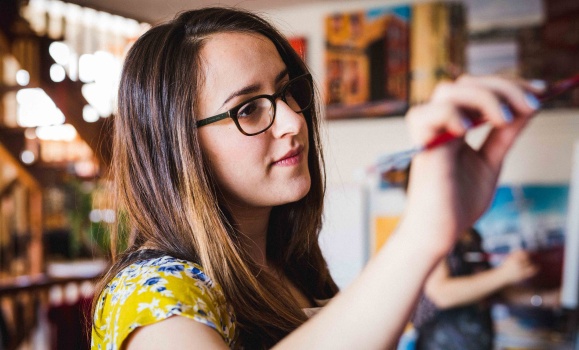 Nicole Power, 25, Halifax
2017 recipient of the Robert G Elgie Health Law and Policy Prize.
Unlike many of her high school classmates, professional artist Nicole Power had no interest in leaving the capital of Canada's ocean playground for university. So, after completing an undergraduate degree in political science and sustainability at Dalhousie, Power stayed her course and applied to a law school close to home – a boon for her father, who had encouraged her to study law "as a fallback" to her art career. (He's still more than happy to take credit for her decision to study law!)
The Schulich School of Law met Power's criteria: It was a short commute to friends and family and an extension of the university that had given her such a positive undergrad experience. 
On Friday, May 26, Power's parents and granddad will celebrate her three years of hard work as they watch her cross the convocation stage and receive her law degree. In June, she'll begin articling with Weldon McInnis.
Below is a snapshot of her law school career: the ups, the downs, and, of course, the moments of "delirious studying."
On law school...
"In my first and second year, I was a member of the Environmental Law Students' Society (ELSS), and in second and third year I was involved with the Student Animal Law Association of Dalhousie (SALAD).
"In first, second, and third year, I also contributed artwork to the Pro Bono Students' Society Art Auction. Outside school, I contribute artwork annually to the Mosaic for Mental Health, a fundraiser for the Canadian Mental Health Association. I also participate every year in art fundraisers for the Annapolis Royal Community Arts Council and the Lunenburg Art Gallery.
I had been thinking about doing law for some time when I went to see the Legally Blonde musical at Neptune Theatre. The opening line was something like, 'I'm a Gemini vegetarian and I'm going to law school!' I am also a Gemini vegetarian. It felt like a sign.
"My favourite law school memory is from Orientation Week. I met Jacob Lewin, who turned out to be one of my best friends, on the harbour cruise and we spent the two hours talking in a corner. We hit it off instantly – we talked about everything! We didn't stop talking for the whole three years, even when times got busy!
"Professor Vaughan Black was probably my favourite professor, though it's hard to pick. I always found his lectures extremely engaging and fun, and I had the benefit of mainly taking seminar-style courses with him. I think I took every course he offered while I was here, and just in time for his retirement! I love the way he reasons about the law, and he digs deeper than face value. I learned so much from him and was inspired to write about the law more than I ever expected I would. My favourite class was Animals and the Law – so interesting and a truly underrepresented topic. I also completed the Dalhousie Law Journal Editorial Assistantship course with Prof. Black and was able to explore legal writing and scholarship. Under his mentorship, I had a paper published last year."
On painting...
"Painting is something I've always done and always hope to do. During this degree, I put in work in random spurts, usually over the holidays and the summer or when deadlines loomed. Now that school is done, I hope to be able to have a more regular and reasonable painting schedule, but I never want to stop doing it. I need a creative outlet.
I usually describe my paintings as colourful, somewhat representational art. I've always been intimidated by abstract art, so I try to paint things as I see them. I love Halifax and I love painting it. I gravitate toward urban scenes, but I also love our coastal views. For me and my art, this city has the best of both worlds.
"I'm somewhat self-taught. I had the privilege of growing up with a professional painter in my house (my mom), so I was exposed to her work and her studio. I had supplies and her guidance at my disposal; in that way, she taught me. My mom is also self-taught. She and I have always been very close, and I'm lucky to get to paint and laugh with her now. Her company provided a wonderful break from the stress of law school – even when I was under pressure to finish paintings on a deadline, she made it fun. I have displayed work at the Teichert Gallery in Halifax, and some is at Argyle Fine Art. I also show at the Lunenburg Art Gallery and Jenny Jib Sales in Lunenburg. I had an exhibit in Chester, N.S., at Amicus Gallery. I have had two solo exhibits and three mother-daughter exhibits, and I've contributed to many group shows."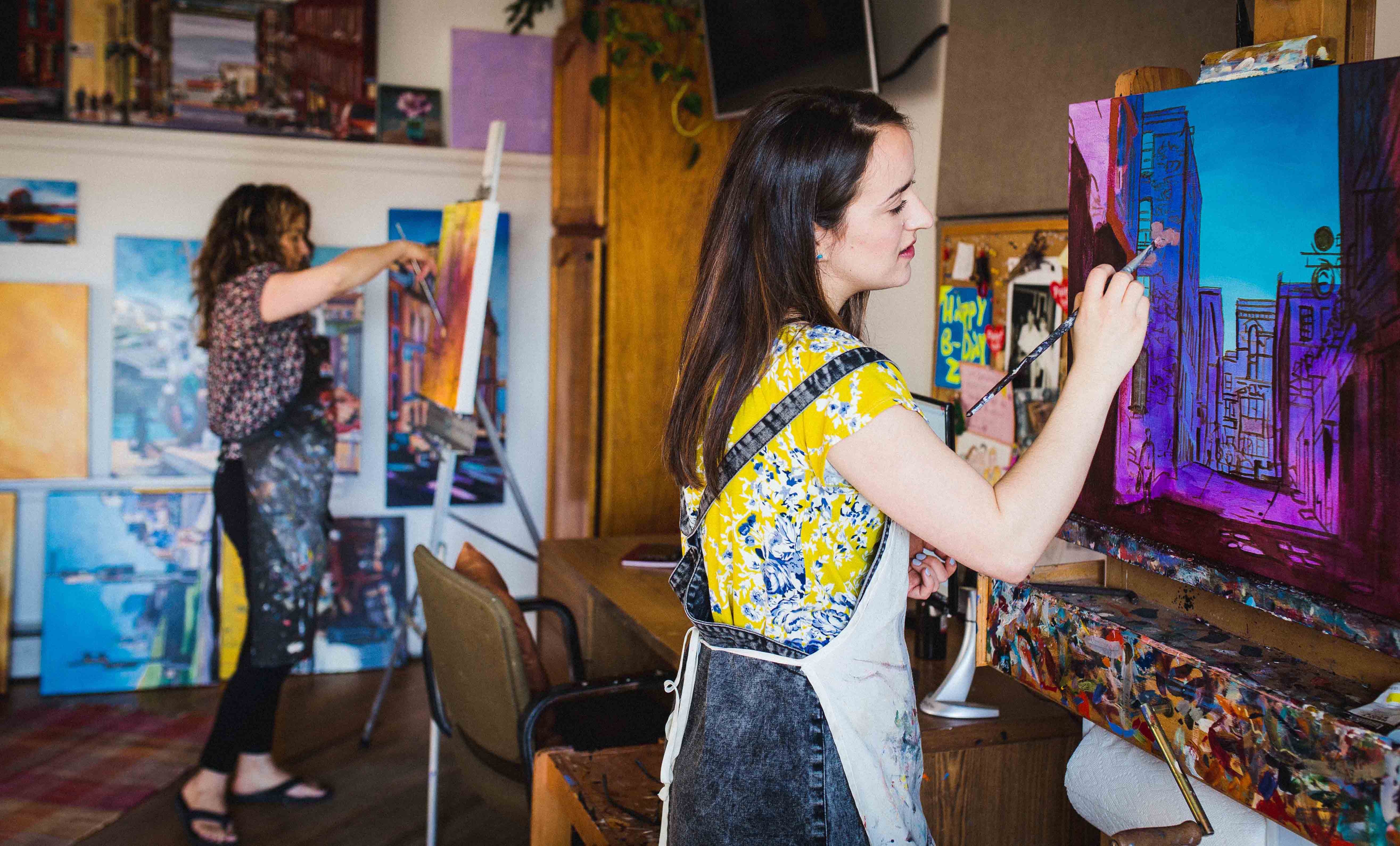 "My mom guided me through the early stages of my art career, but we're different people with different tastes, and this comes through in our brushstrokes. Her work is free and loose, whereas mine is tidier and more graphic. We both love colour though, and I think this is the comment I get the most: people love colour."
On the future...
"I feel like I'm being pulled in two directions. I'm always seeking balance. I'm very interested in the law, but I could never completely abandon the art. Sometimes it's hard not to bite off more than I can chew, but I'm learning this isn't necessarily a bad thing."