News
»
Go to news main
KUDOS! Professor David VanderZwaag has co‑edited a new aquaculture law and policy book
Posted by
Jane Doucet
on January 9, 2017 in
News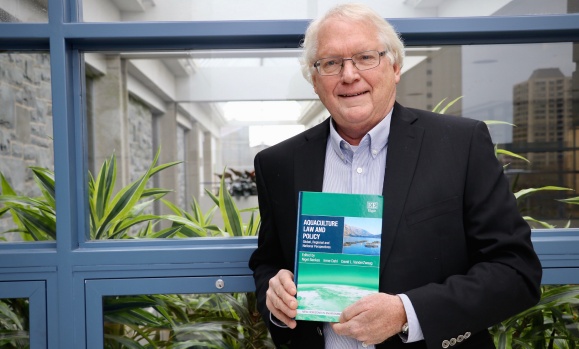 Edward Elgar Publishing has released the first edition of Aquaculture Law and Policy: Global, Regional and National Perspectives as part of its New Horizons in Environmental and Energy Law series. Professor David VanderZwaag, Canada Research Chair (Tier 1) in Ocean Law and Governance and Associate Director of the Schulich School of Law's Marine & Environmental Law Institute, co-edited the almost 500-page book with Nigel Bankes of the University of Calgary's Faculty of Law and Irene Dahl of the K.G. Jebsen Centre for the Law of the Sea in Norway.
"There was sparse literature on this topic around the globe," says VanderZwaag on the need for such a publication. In addition to co-authoring the introduction and conclusion, he wrote Chapter 2, "The international law and policy seascape for aquaculture: Navigating tangled currents," which examines what international law and policy has to do with aquaculture.
The book's 21 contributors include the Schulich School of Law's Professors Meinhard Doelle and Phillip Saunders, who co-authored Chapter 8, "Aquaculture governance in Canada: a patchwork of approaches," former doctoral students Jay Batongbacal and Tony Puthucherril, and former LLM student Fran Humphries.
It's fantastic to see the published book, and we anticipate broad global interest in it…Things will change and systems will evolve, so perhaps there will be a need in five or six years for an updated version." — Professor David VanderZwaag
The concept for the book first arose in 2014. Its purpose is threefold: to help understand and follow international law and policy developments related to aquaculture in order to push national law reform; to increase the understanding of approaches to addressing regional aquaculture issues; and to compare national approaches and challenges in aquaculture regulation.
Aquaculture Law and Policy is intended for a broad audience that includes policy-makers, NGOs, and academics. "It could also end up as part of aquaculture law and policy courses," says VanderZwaag. He credits Susan Rolston at Seawinds Consulting Services, who copy edited the final versions of chapters, for bringing the volume through to completion.
Most of the funding to support the project came from the K.G. Jebsen Centre for the Law of the Sea. Additional support came from the University of Tromso's Faculty of Law in Norway, and a contribution from Schulich Law's Schulich Academic Excellence Fund. There was also research support from the Social Sciences and Humanities Research Council, particularly through the OceanCanada Partnership.
"It's fantastic to see the published book, and we anticipate broad global interest in it," says VanderZwaag. "It explores the aquaculture legal and policy frameworks for 12 different jurisdictions – Australia, Canada, Chile, China, Iceland, India, New Zealand, Norway, Philippines, United Kingdom and Scotland, South Africa, and the United States. Things will change and systems will evolve, so perhaps there will be a need in five or six years for an updated version."