Philip
Zachernuk
Associate Professor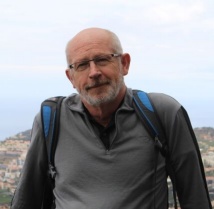 Email:
philip.zachernuk@dal.ca
Phone:
902-494-3682
Fax:
902-494-3349
Mailing Address:
Room 3169, Marion McCain Building, 6135 University Ave
PO Box 15000, Halifax, NS B3H 4R2

Research Topics:
Modern African history
African Intellectual history
History of slavery
Colonialism

Education
BA (Dalhousie)

MA (Dalhousie)
PhD (Toronto)
Selected publications

Colonial Subjects: An African Intelligentsia and Atlantic Ideas. University Press of Virginia, Charlottesville, 2000.
"Contemporary Africans meet Timeless Africa: West Africans' engagement with ideas of Africa in America, 1930-1950", Journal of West African History Vol 8, 1 (March 2022) (forthcoming).
"Edward Wilmot Blyden", in Christian-Muslim Relations: A Bibliographical History 1500-1900, ed. David Thomas. (Leiden: Brill, forthcoming 2022).

"Who Needs a Witch Doctor?  Refiguring British Colonial Cinema in the 1940s,"  in Lee Grieveson and Colin MacCabe eds., Film and the End of Empire (London:  Palgrave Macmillan for the British Film Institute, 2011), pp. 95-117  
"African Intellectuals and the Reconceptualization of Africa," in Misty Bastian and Jane Parpart, eds., Great Ideas for Teaching About Africa (Rienner, Boulder, 1999).
"African History and Imperial Culture in Colonial Nigerian Schools," Africa 68 (1998).
"Of Origins and Colonial Order: Southern Nigerian Historians and the 'Hamitic Hypothesis,' c. 1870-1970," Journal of African History 35 (1994).
Teaching 2021-2022
HIST 1910(02)F - Life Stories Seminar (2019-2020 Topic:  Father of Pan Africanism:  Kwame Nkrumah)

HIST 2714F - Slavery and Slaving in Global History

HIST 3435/5435F - Rise/Fall - African Slavery

Office Hours Winter 2023
Thursdays, 12:00-1:30
By appointment