Jerry
Bannister
Associate Professor; Director, Marine Affairs Program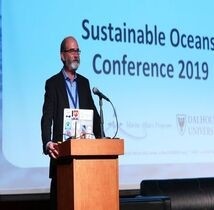 Email:
jerry.bannister@dal.ca
Fax:
902-494-3349
Mailing Address:
Room 800, Life Sciences Centre (Biology Wing, 8th floor) Marine Affairs Program, 1459 Oxford St., PO Box 15000, Halifax, NS B3H 4R2

Research Topics:
Canadian history
Modern Atlantic Canada
Early modern Atlantic world

Education
BA Honours (Memorial)
MA (Toronto)
PhD (Toronto)
Books and Edited Collections

Elizabeth Mancke, Jerry Bannister, Denis McKim, and Scott See, eds., Violence, Order, and Unrest: A History of British North America, 1749-1876. Toronto: University of Toronto Press, 2019.

Melvin Baker, Jerry Bannister, and Christopher Curran, eds., Essays on the Legal History of Newfoundland and Labrador. St. John's: Law Society of Newfoundland and Labrador, 2019.
Jerry Bannister and Liam Riordan, eds., The Loyal Atlantic: Remaking the British Atlantic in the Revolutionary Era. Toronto: University of Toronto Press, 2012
William R. Keylor and Jerry Bannister, The Twentieth-Century World: An International History. First Canadian Edition. Toronto: Oxford University Press, 2005.
Jerry Bannister, The Rule of the Admirals: Law, Custom, and Naval Government in Newfoundland, 1699-1832. Toronto: University of Toronto Press, 2003.
Winter 2023 Office Hours:
Mondays 3:30pm to 5:00pm
By appointment, in-person or Teams