Jerry
Bannister
Associate Professor; Co-ordinator, Canadian Studies Program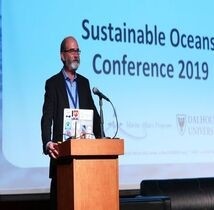 Email:
jerry.bannister@dal.ca
Phone:
902-494-1541
Fax:
902-494-3349
Mailing Address:
Room 3170, Marion McCain Building, 6135 University Ave
PO Box 15000, Halifax, NS B3H 4R2

Research Topics:
Early modern Atlantic World history
Canadian history
Modern Atlantic Canada

Education
BA (Memorial)
MA (Toronto)
PhD (Toronto)
Selected publications

"Atlantic Canada in an Atlantic World? Northeastern North America in the Long 18th Century," Acadiensis XLIII, no. 2 (Summer/Autumn 2014).

Jerry Bannister and Liam Riordan, eds., The Loyal Atlantic:  Remaking the British Atlantic in the Revolutionary Era. Toronto: University of Toronto Press, 2012
The Rule of the Admirals: Law, Custom, and Naval Government in Newfoundland, 1699-1832. Toronto: University of Toronto Press, 2003. (Winner, 2004 Sir John A. Macdonald Prize)
William R. Keylor and Jerry Bannister, The Twentieth-Century World: An International History. Canadian Edition. Toronto: Oxford University Press, 2005.
"Planter Studies and Atlantic Scholarship: The New History of Eighteenth-Century Nova Scotia," in Stephen Henderson and Wendy Robicheau, eds., The Nova Scotia Planters in the Atlantic World, 1759-1830 ​(Fredericton: Acadiensis Press, 2012).
"The Oriental Atlantic: Governance and Regulatory Frameworks in the British Atlantic World," in H.V. Bowen, Elizabeth Mancke, and John G. Reid, eds., Britain's Oceanic Empire: Atlantic and Indian Ocean Worlds, c.1550-1850 (Cambridge: Cambridge University Press, 2012).
"A River Runs Through It: Churchill Falls and the End of Newfoundland History," Acadiensis 41, 1 (Winter/Spring 2012).
"The Presence of the Past: Memory and Politics in Atlantic Canada since 2000," in Donald Savoie and John Reid., eds., Shaping an Agenda for Atlantic Canada (Halifax: Fernwood, 2011). [co-authored with Roger Marsters].
Awards and honours
W. L. Morton Lecture, Trent University, 2012
Distinguished Canadian Studies Lecture, Canadian-American Center, University of Maine, 2008
The Sir John A. Macdonald Prize, 2004
The Clio Award for the Atlantic Region, 2004
Teaching Fall and Winter Terms 2018-2019:
Office Hours Fall Term:
Fridays, 10:30-11:30 and 2:30-3:30
and by appointment