Simon
Fisher
Assistant Professor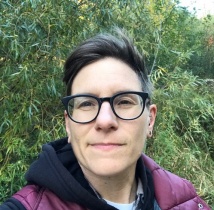 Email:
simon.fisher@dal.ca
Research Topics:
United States History (1865-present)
History of Gender and Sexuality
African American History
Queer and Transgender Studies
Education:
BA (English Literature/Women's Studies) – DePaul University
MA (Interdisciplinary Humanities) – University of Chicago
PhD (History) – University of Wisconsin-Madison 
Teaching
Fall:
HIST 2615/GWST 2301  Making Gender: Sex & Gender from the American Revolution
HIST 3600 Social Justice in US History (20th c)
HIST 4501 US Colonialism and Post-colonialism 
Winter:
HIST 2332 The American Republic from 1865 (survey)
HIST 3369 America in the 1960
HIST 2335 Modern American Culture
Office Hours
Thursdays 1:00-2:00
By appointment
Selected Publications
Fisher, Simon D. Elin. "Challenging Dissemblance in Pauli Murray Historiography, Sketching a History of the Trans New Negro," Journal of African American History, 104.2 (2019).
Republished in Narrow, Stephanie, Kim Carry Warren, and Judy Tzu-Chun Wu, eds. Unequal Sisters: A Revolutionary Reader in U.S. Women's History. Routledge, 2023.
Fisher, Simon D. Elin, Ido Katri, and Rasheedah Phillips, eds., Somatechnics - Trans Temporalities [special issue], 7.1 (2017).
Fisher, Simon D. Elin. "Pauli Murray's Peter Panic: Perspectives from the Margins of Race and Gender in Jim Crow America," Transgender Studies Quarterly, 3.1 (2016).
Republished in Stryker, Susan, and Dylan McCarthy Blackston, eds. The Transgender Studies Reader Remix. Routledge, 2022.