Denis
Kozlov
Associate Professor; Undergraduate and Honours Coordinator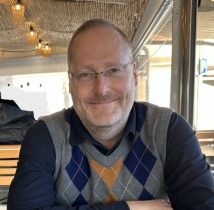 Email:
denis.kozlov@dal.ca
Phone:
902-494-3579
Fax:
902-494-3349
Mailing Address:
Room 3168, Marion McCain Building, 6135 University Ave
PO Box 15000, Halifax, NS B3H 4R2

Research Topics:
Russian and Soviet history
Cultural history
Intellectual history
Memory
Social migration history
Literature and society

Education
BA (Herzen Russian State Pedagogical Univ.)
MA (Mass. Amherst)
PhD (Toronto)
I am a historian of modern Russia. My research focuses on the cultural, intellectual, and social history of the Soviet Union, especially the post-Stalin 1950s and 1960s – decades known as the Thaw. On the basis of archival evidence, primarily thousands of letters from readers to literary periodicals, my recent work explored how the Soviet reading audiences of those decades comprehended their life experiences in the framework of twentieth-century history. This work revealed mechanisms of intellectual change that were crucial to the evolution of Soviet society and culture. I have also started a project on the cultural history of migrations in twentieth-century Russia. My teaching ranges from introductory surveys to advanced seminar courses on Soviet and Imperial Russia, and I supervise student research in these and adjacent fields.
Selected publications
Monographs

The Readers of Novyi Mir: Coming to Terms with the Stalinist Past. Cambridge, Mass.: Harvard University Press, 2013. 442 pp.
Novoangliiskii separatism v SShA v nachale XIX veka. [New England Separatism in the United States in the Early Nineteenth Century.] Saint Petersburg: Glossa, 1997. 112 pp.
Edited Collections
The Thaw: Soviet Society and Culture during the 1950s and 1960s. Co-editor (with Eleonory Gilburd) Toronto: University of Toronto Press, 2013, paperback edition 2014. 528 pp.
The War Against the Peasantry, 1927-1930. Co-editor (with Lynne Viola, Viktor P. Danilov, and Nikolai A. Ivnitskii). Annals of Communism Series. New Haven: Yale University Press, 2005. 427 pp.
Journal Guest Editorship
The Thaw and After: Late Soviet Culture and Society. In Russian Studies in History, vol. 49, no. 4 (Spring 2011); vol. 50, no. 1 (Summer 2011)
Peer Reviewed Articles and Book Chapters
"Reading during the Thaw: Subscription to Literary Periodicals as Evidence for an Intellectual History of Soviet Society," in Reading Russia: A History of Reading in Modern Russia, vol. 3, ed. Damiano Rebecchini and Raffaella Vassena (Milan: Ledizioni/Milan State University Press, 2020): 159-216. Available online [PDF - 18.8MB].
"Nasledie ottepeli: k voprosu of otnosheniiakh sovetskoi literatury i obshchestva vtoroi poloviny 1960-kh godov" [Legacy of the Thaw:  On Relations between Soviet Literature and Society during the Late 1960s], Novoe literaturnoe obozrenie, no. 125 (2014): 183-204 

"The Thaw as an Event in Russian History," in The Thaw: Soviet Society and Culture during the 1950s and 1960s (Toronto: University of Toronto Press, 2013): 18-81 (co-authored with E. Gilburd)
"Remembering and Explaining the Terror during the Thaw," in The Thaw: Soviet Society and Culture during the 1950s and 1960s (Toronto: University of Toronto Press, 2013): 176-230
"Introduction," in The Thaw: Soviet Society and Culture during the 1950s and 1960s (Toronto: University of Toronto Press, 2013): 3-17
"Athens and Apocalypse: Writing History in Soviet Russia," in Oxford History of Historical Writing, vol. 5, ed. Daniel Woolf and Axel Schneider (Oxford: Oxford University Press, 2011): 375-398
"Otzyvy sovetskikh chitatelei 1960-kh gg. na povest' A. I. Solzhenitsyna "Odin den' Ivana Denisovicha": Svidetel'stva iz arkhiva 'Novogo mira'," Noveishaia istoriia Rossii, no. 1 (2011): 178-200, and no. 2 (2011): 192-200. 32 pp. total
"Writing about the Thaw in Post-Soviet Russia," Russian Studies in History, vol. 49, no. 4 (Spring 2011): 3-17
"'I Have Not Read, but I Will Say': Soviet Literary Audiences and Changing Ideas of Social Membership, 1958-1966," Kritika: Explorations in Russian and Eurasian History, vol. 7, no. 3(Summer 2006): 557-97
"Naming the Social Evil: The Readers of Novyi mir and Vladimir Dudintsev's Not by Bread Alone, 1956-1959 and beyond," The Dilemmas of De-Stalinization: A Social and Cultural History of Reform in the Khrushchev Era, ed. Polly A. Jones (London & New York: Routledge,2006): 80-98
"The Leningrad Martyrology:  A Statistical Note on the 1937 Executions in Leningrad City and Region," Canadian Slavonic Papers, vol. 44, no. 3-4 (September-December 2002): 175-208 Annual essay prize of the Canadian Association of Slavists, 2000
"The Historical Turn in Late Soviet Culture: Retrospectivism, Factography, Doubt, 1953-1991,"Kritika: Explorations in Russian and Eurasian History, vol. 2, no. 3 (Summer 2001): 577-600
Selected Research Awards and Fellowships  
SSHRC Insight Grant, 2019-2024

Institute for Advanced Study, Princeton (School of Historical Studies), Andrew W. Mellon Fellowship for Assistant Professors, 2010-2011
Harvard University, Davis Center for Russian and Eurasian Studies, Postdoctoral Fellowship, 2008-09
Harvard University, Davis Center for Russian and Eurasian Studies, Postdoctoral Fellowship, 2007-08 (declined)
Social Sciences and Humanities Research Council of Canada, Postdoctoral Research Fellowship. Held at the University of California, Berkeley, 2005-07
National Endowment for the Humanities, Collaborative Research Grant, 2004-05 Awarded to organize a conference, "The Thaw: Soviet Society and Culture during the 1950s and 1960s," University of California, Berkeley, May 2005; co-recipient with Eleonory Gilburd and Yuri Slezkine
Teaching Awards
Faculty of Arts and Social Sciences Excellence in Teaching Award  2014-2015, Dalhousie University 


Teaching 2021-2022
Office Hours Winter 2023
Wednesday 3:00-5:00
Online by appointment