Kassandra
Luciuk
Assistant Professor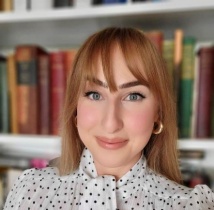 Email:
luciuk@dal.ca
Phone:
902 494 3355
Mailing Address:
Department of History, Dalhousie University, 6135 University Avenue, PO Box 15000, Halifax, NS B3H 4R2 (Office location Marion McCain Building, Room 3181)

Research Topics:
Canadian history
Migration and ethnicity
Law and human rights
Social and political movements
Communism and anti-communism
Ukrainian diaspora
Education:
BA (Queen's University)
MA (Queen's University)
PhD (University of Toronto)
Recent Publications:
"'They Will Crack Heads When the Communist Line is Expounded': Anti-Communist Violence in Cold War Canada," Labour/Le Travail 90 (Fall 2022). 

Enemy Alien: A True Story of Life Behind Barbed Wire (Toronto: Between the Lines, 2020).
- Shortlisted: 2022 KOBZAR Book Award

"Reinserting Radicalism: Canada's First National Internment Operations, the Ukrainian Left, and the Politics of Redress," in Rhonda Hinther and Jim Mochoruk, eds., Civilian Internment in Canada: Histories and Legacies (Winnipeg: University of Manitoba Press, 2020).
"More Dangerous Than Many a Pamphlet or Propaganda Book:  The Ukrainian Canadian Left, Theatre, and Propaganda in the 1920s," Labour/Le Travail 83 (Spring 2019).
- Winner: 2020 Jean-Marie Fecteau Prize, Canadian Historical Association

"Canada's First National Internment Operations and the Search for Sanctuary in the Ukrainian Labour Farmer Temple Association," in Adriana Davies and Jeffrey Keshen, eds., The Frontier of Patriotism: Alberta and the First World War (Calgary: University of Calgary Press, 2016).
Teaching 2022-2023
HIST/CANA 2210: Many Canadas, 1930s to the Present
HIST 2700: Introduction to Historical Methods
HIST 3226: Law & Justice in Canadian Society, to 1890
HIST 3227: Criminal Law, Crime Punishment in Canadian Society, 1890 to Present
Office Hours Fall 2022
Wednesday 1:00-2:00 and by appointment