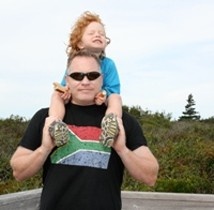 Email:
gary.kynoch@dal.ca
Phone:
902-494-3667
Fax:
902-494-3349
Mailing Address:
Room 1164, Marion McCain Building, 6135 University Ave
PO Box 15000, Halifax, NS B3H 4R2

Research Topics:
South African history
Conflict in 20th century Africa
Urban African history
Crime
Education
BA (Queen's)

BEd (Queen's)
MA (Dalhousie)

PhD (Dalhousie)
Books

Township Violence and the End of Apartheid:  War on the Reef  (James Currey; Wits University Press 2018)
We are Fighting the World: The Marashea Gangs in South Africa, 1947-1999 (Ohio University Press; University of KwaZulu-Natal Press, 2005).
Recent Articles & Essays
"Apartheid's Afterlives:  Violence, Policing and the South African State" Journal of Southern African Studies 42, 1 (2016).

"Fear and Alienation:  Narratives of Crime and Race in Post-Apartheid South Africa" Canadian Journal of African Studies 47, 3 (2013).
"Reassessing Transition Violence:  Voices from South Africa's Township Wars", 1990-94" African Affairs 112, 447 (2013).
Co-editor (with Jocelyn Alexander) and introduction for The Hiistories and Legacies of Punishment in Southern Africa, special issue of Journal of Southern African Studies 37, 3 (2011).
"Of Compounds and Cellblocks:  The Foundations of Violence in Johannesburg, 1890s-1950s" Journal of Southern African Studies 37, 3 (2011).  
Teaching 2021-2022
Office Hours:
Tuesday 1:30-3:30 
By appointment