Colin
Mitchell
Associate Professor, Graduate Coordinator; Director, Minor in Middle East Studies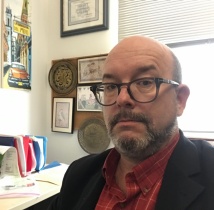 Email:
c.mitchell@dal.ca
Phone:
902-494-2788
Fax:
902-494-3499
Mailing Address:
Room 2169, Marion McCain Building, 6135 University Ave
PO Box 15000, Halifax, NS B3H 4R2

Research Topics:
Medieval and early modern Islamic history
Intellectual history
Religious history
Euro-Islamic contacts
Persian history
Iranian history
Medieval history of South Asia
Education
BA (Regina)
MA (McGill)
PhD (Toronto)
Colin Mitchell teaches in the Dalhousie History program, with a cross-appointment to Religious Studies. After his MA in Islamic Studies at the Institute of Islamic Studies (McGill) in 1995, he completed a PhD in History at the University of Toronto in 2002.
Current Research Projects
Professor Mitchell is primarily a historian of Safavid Iran (1501-1722), but has also written on Mughal India and Timurid Iran/Central Asia. He has worked on the intersection of court politics, literature, and religion with a emphasis on chancellery practices and the Persian belletristic tradition. He is currently researching princely succession practices in the early modern Islamicate lands, as well as examining the iconography of Old Testament prophets in medieval and early modern Persianate literary and religious culture. 
Select publications
Books

New Perspectives on Safavid Iran: Empire and Society (editor). Routledge, 2012.
The Practice of Politics in Safavid Iran: Power, Religion, and Rhetoric. I.B. Tauris, 2009.
Articles
"Exploring Patronage, Genre and Scholar-Bureaucracy: The Trans-Imperial Career of Khwandamir (d. 1534)," Entangled Religions: Interdisciplinary Journal for the Study of Religious Contact and Transfer, Vol. 13 (2022).
"The Early Safavids, 1450-1510: Embodiment and Disembodiment," Iran namag: Quarterly of Iranian Studies, Vol. 6 (2021), pp. 238-280.
"Man of the Pen, Pillar of the State: Hatem Beg Urdubadi and the Safavid Empire," Safavid Persia in the Age of Empires, ed. Charles Melville, Vol. X of The Idea of Iran Series, London: Bloomsbury Publishing, 2021, pp. 47-79.
"Custodial Politics and Princely Governance in Sixteenth-Century Safavid Iran," The Safavid World, ed. Rudi Matthee, The Routledge Worlds Series, London: Routledge, 2021, pp. 77-110.
A Medieval Nexus: Locating Ensha and Its Ontology in the Persianate Intellectual Tradition, 1000-1500, The History of Persian Literature, Vol. 5: Persian Prose, ed. Bo Utas, London: I.B. Tauris, 2021, pp. 1-96.
"Two Tales of One City: Herat Under the Early Modern Empires of the Timurids and Safavids, in E. Nelson and J. Wright (eds), Layered Landscapes: Early-Modern Religious Space Across Faiths and Cultures, London: Routledge, 2017, pp. 207-221.
"Reconsidering State and Constituency in Seventeenth-Century Safavid Iran: The Wax and Wane of the Munshi," in Secretaries and Statecraft in the Early Modern World, ed. P. Dover, Edinburgh: Edinburgh University Press, 2016, pp. 206-234.
Teaching 2021-2022
HIST 2503F- Medieval Islamic Civilisation
HIST 3500F - Topics in Global History

HIST 3510W - Islamicate Empires, 1300-1700
HIST 5800- The Masters Seminar - For History Students Only.
Office Hours

Fridays 1:30-3:30
By appointment