Colin
Mitchell
Associate Professor, Graduate Coordinator; Director, Minor in Middle East Studies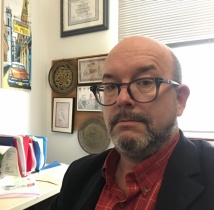 Email:
c.mitchell@dal.ca
Phone:
902-494-2788
Fax:
902-494-3499
Mailing Address:
Room 2169, Marion McCain Building, 6135 University Ave
PO Box 15000, Halifax, NS B3H 4R2

Research Topics:
Medieval and early modern Islamic history
Intellectual history
Religious history
Euro-Islamic contacts
Persian history
Iranian history
Medieval history of South Asia

Education
BA (Regina)
MA (McGill)
PhD (Toronto)
Select publications

Exploring Patronage, Genre and Scholar-Bureaucracy: The Trans-Imperial Career of Khwandamir (d. 1534),
Entangled Religions: Interdisciplinary Journal for the Study of Religious Contact and Transfer (forthcoming).
Man of the Pen, Pillar of the State: Hatem Beg Urdubadi and the Safavid Empire, Safavid Persia in the Age of Empires, ed. Charles Melville, Vol. X of The Idea of Iran Series, London: Bloomsbury Publishing, 2021, pp. 47-79.
Custodial Politics and Princely Governance in Sixteenth-Century Safavid Iran, The Safavid World, ed. Rudi Matthee, The Routledge Worlds Series, London: Routledge, 2021, pp. 77-110.
A Medieval Nexus: Locating Ensha and Its Ontology in the Persianate Intellectual Tradition, 1000-1500, The History of Persian Literature, Vol. 5: Persian Prose, ed. Bo Utas, London: I.B. Tauris, 2021, pp. 1-96.
Die Safawiden, Islam I: Entstehung, Konfession, Dynastien, ed. Georges Tamer, Stuttgart, 2021.
The Safavids The Oxford Research Encyclopedia of Religion, ed. J. Barton, Oxford: Oxford University Press, 2019.

Two Tales of One City: Herat Under the Early Modern Empires of the Timurids and Safavids, in E. Nelson and J.
Wright (eds), Layered Landscapes: Early-Modern Religious Space Across Faiths and Cultures, London: Routledge, 2017, pp. 207-221.

Reconsidering State and Constituency in Seventeenth-Century Safavid Iran: The Wax and Wane of the Munshi, in
Secretaries and Statecraft in the Early Modern World, ed. P. Dover, Edinburgh: Edinburgh University Press, 2016, pp. 206-234.
New Perspectives on Safavid Iran:  Empire and Society (ed.). Iranian Studies Series, London:  Routledge, 2011.
The Practice of Politics in Safavid Iran:  Power, Religion and Rhetoric. London:  I. B. Tauris, 2009.
Sir Thomas Roe and the Mughal Empire. Karachi: University of Karachi, Area Study Centre of Europe, 2000.
"Persian Rhetoric in the Safavid Context:  A 16th-century Nürbakhshiyya Treatise on Insha."  In eds. W. Hanaway and B. Spooner. Literacy in the Persianate World: Writing and the Social Order.  Philadelphia: University of Pennsylvania Museum of Archaeology and Anthropology, 2012, pp. 196-231.

"Am I My Brother's Keeper?  Negotiating Corporate Sovereignty and Divine Absolutism in Sixteenth-Century Turco-Iranian Politics."  In New Perspectives on Safavid Iran:  Empire and Society.  Ed. Colin P. Mitchell.  London:  Routledge, 2011, pp. 33-58.
Awards and honours
2012-2015 SSHRC Insight Grant - "Ruling from a Red Canopy:  Princely States and Governates in the Perso-Islamic World, 1000-1700"
Recipient of Honorable Mention for the Middle East Studies Association's 2010 Houshang Pourshariati Iranian Studies Book Award
2002-2004 SSHRC Post-Doctoral Research Fellowship
2002-2003 Mellon Post-Doctoral Fellowship in Persian history and culture, Society for the  Humanities, Cornell University
2002 Honorable Mention - Dissertation Award of Foundation for Iranian Studies
Teaching 2021-2022
HIST 2503F- Medieval Islamic Civilisation
HIST 3500F - Topics in Global History

HIST 3510W - Islamicate Empires, 1300-1700
HIST 5800- The Masters Seminar - For History Students Only.
Office Hours 2021-2022