Students arriving for class in a new active learning space on Studley Campus last month stumbled into the middle of a mess. Chairs and desks were strewn about the room in seemingly random directions, with little thought given to the lecture console at the front.
"The room was a shambles," said Dr. Lisa Binkley, the course instructor, recalling the moment at a recent open house event promoting the refurbished classroom in the Marion McCain Arts and Social Sciences Building.
Dr. Binkley, an assistant professor in the Department of History, had intentionally created the chaos to see how the students would respond. 
"They quickly reconfigured the chairs as an old seminar room," she explained. "They all wanted their backs against the wall."
While the students may have leaned into old ways when reorganizing the furniture in Room 2017 during their first encounter, Dr. Binkley expects them to embrace the space's flexibility as the term goes on.
"It's going to help us rethink about how we plan our curriculum and get learners involved in the learning and even the planning process," she said.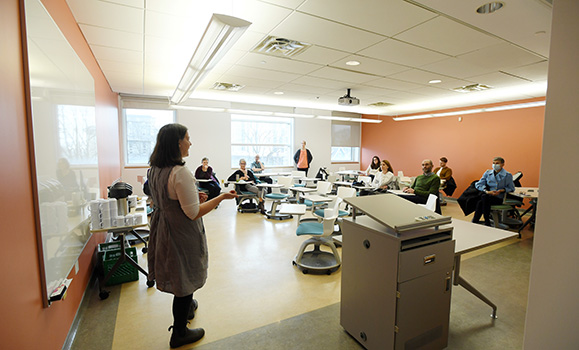 Dr. Binkley at the open house event.
Dr. Binkley worked with other faculty members across Dal and colleagues in the Centre for Learning and Teaching (CLT) — as well as staff in Academic Technology Services, Facilities Management, and the Registrar's Office — to bring the space to life over the past year. 
The project taps into a growing trend in post-secondary toward active learning spaces, which are classrooms designed to better engage students as active participants in their own learning process. There is no "front of the class," meaning stronger interaction between students and instructors, and desks and chairs are easily movable to allow for more effective group work, discussion and collaboration. 
This term, Dr. Binkley is teaching a course in Metis Histories and Culture in the room.
"If I'm teaching about Indigenous cultures and ways of knowing, we often sit in a circle. This room will easily configure that way," she said. "It's nice to not have those barriers."
She spoke about a previous experience teaching in a similar space at another university and how the students grew to love it.
"It became a space where students would get excited about coming into the room, and at the end of the term they would ask what other courses were in there so they could take them just to be in that room," she said.
Recommended reading: High‑tech simulation transports students to scene of horrific explosion
A responsive space

The new modular furniture — all from Steelcase, a leading manufacturer of classroom furniture — stands out as the most obvious difference between Room 2017 and the neighbouring seminar rooms in the Marion McCain Building. A wide assortment of different types of movable desks and tables now fill the space, many equipped with their own coat hangers, coffee holders, and under-seat storage basins for personal belongings that enable more ease of movement.
Everything down to the colour of the seating has been considered.
"It gives the professor a different place to start," explained Dr. Binkley, before laying out an example of how an instructor might use the new furniture to group students together by seat colour before then mixing them up to engage in a debate.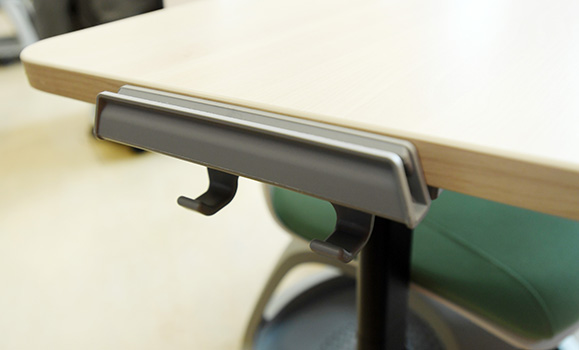 A closeup of a hook with whiteboard holder built in.
In addition to the furniture, the room also boasts a fresh coat of cheery orange paint chosen in consultation with an interior designer to complement the colours of the seating. Sound dampening flooring will be installed soon, as will additional white boards on every wall and Bluetooth-enabled screens that'll allow students to easily link up for presentations.
Consideration was also given to making sure the space meets accessibility needs. It includes a table to accommodate wheelchair users and seating for people with mobility challenges.
"This is a beautiful classroom and it's clearly designed to be responsive to students," said Dr. Jennifer Andrews, dean of the Faculty of Arts and Social Sciences, at the open house event. "A lot of it has to do with students and how they see themselves in relation to each other. It's a real opportunity to pilot how this room works and see how this applies to other spaces."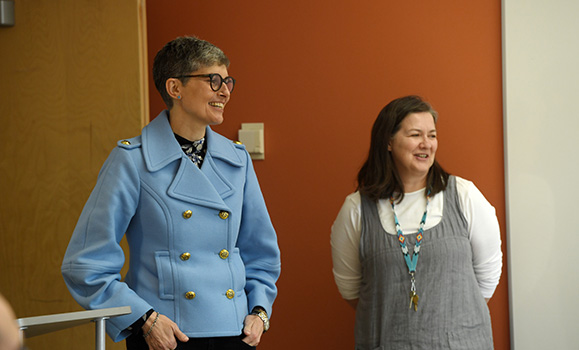 Dean Andrews, left, and Dr. Binkley at the open house event.
Discussion during the open house event sparked ideas for possible further improvements as well, including an alternative to the current overhead fluorescent lighting that offers a single level of brightness.
Recommended reading: How a group of Dal educators has transformed the outdoors into a classroom 
More like it
The active learning space will serve as a pilot project for the first year, with hopes that, if successful, more of these types of classrooms will be created at Dal in the future.

Dr. Suzanne Le-May Sheffield, executive director (acting) with CLT and a partner on the project, said she's thrilled to see Dr. Binkley's vision come to fruition.
"What's she's done is brought other faculty in to say, 'You could do this, too.' So, it has spread her ideas to other people," explained Dr. Sheffield, whose team works with instructors across Dal to foster better learning outcomes.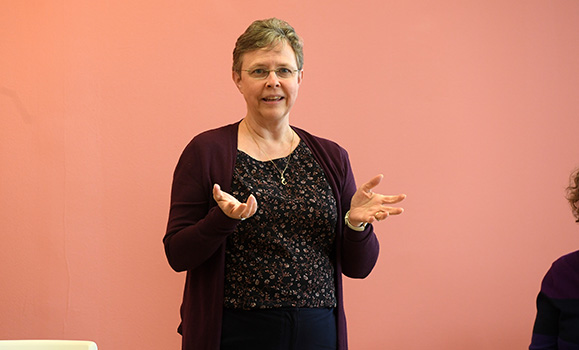 Dr. Sheffield. 
Dr. Binkley consulted with members of one of the Dalhousie Leading in Teaching Excellence (D-LITE) groups she is leading to gather a wish list as she worked on the design for the new active learning space, which is a pilot project. The D-LITE groups, open to all instructors at Dal, host discussions on a range of topics related to teaching and learning.
"What I'm hoping is that this will be the first, and we'll have more faculty-led projects and more rooms like this used as they were designed to be," said Dr. Sheffield.
Now that the new active learning space is open for use, other instructors and faculty members interested in using the space can put in a request with Dr. Binkley to do so.
Dr. Lindsay Dubois, an associate professor in the Department of Sociology and Social Anthropology and associate dean academic for FASS, sees great potential in the reimagined classroom.
"It is so exciting to think differently about space and how we use space," she said. "Those of us who study it know that it really shapes social relations, so being able to liberate ourselves from the lines and the squares seems fabulous. Hopefully this opens up more possibilities than any of us thought."