When disaster strikes, it's not just first responders who spring into action. Doctors and other healthcare professionals can be crucial to successfully managing the crisis, saving lives, and maintaining order.
But how do they prepare for a crisis of such immense magnitude?
Following a collaboration between both undergraduate medical education teams in Nova Scotia (DMNS) and New Brunswick (DMNB), local healthcare professionals and associations, as well as the Centre for Collaborative Clinical Learning and Research (C3LR), the first Disaster Preparedness Workshop was held last fall in Halifax.
Many months in the making, the workshop offered learners in their third year of medicine at Dalhousie's Nova Scotia and New Brunswick campuses the opportunity to develop and practice skills associated with large-scale casualty and triage situations. With 34 simulated patients (SP) participating alongside volunteer physicians (including residents), paramedics, nurses, and respiratory therapists, the workshop was the first of its kind at Dalhousie and a massive undertaking.
To set the scene, the simulation was planned as an explosion that took place on a busy street in Halifax, where there were patients with differing levels of injury and care required. These patient cases were developed by physician leads, Drs. Adam Harris and John Armstrong, alongside clinical skills educator, Laura Thomas, and simulated patient educator, Emily Armstrong.
"The cases took an incredible amount of time, more so than I think we anticipated," says Armstrong. "It was a real collaborative effort of our centre (C3LR), as well as the physician leads and many others, including healthcare professionals, who helped in the review and development to ensure, accuracy and appropriateness."
Considering the scale of this simulation, the administrative and logistical requirements necessitated the support of many members of the C3LR team, as well as a large space. The team was fortunate to access the entire fifth floor of the Collaborative Health Education Building (CHEB) which was set up as the 'Disaster and Triage Zone.' The C3LR on the third floor was designated the 'Hospital Zone.'
"We actually booked out the entire CHEB, so that was a bit of an effort," recalls Armstrong. "We've never done that before."
Months of preparation

With the space secured, simulation assistants Tom Smith and David Hutton spent months preparing props and purchasing any supplies that were needed. The pair used 3D-printing equipment and silicone casting to create blood, burns, cuts, and broken bones that were attached to manikins and simulated patients. They went as far as to engineer a thoracostomy trainer for learners to practice chest tube insertion. It was developed using a CT scan of a set of ribs they 3D printed, in addition to silicone rubber and other materials to emulate the skin, fat, muscle, and chest wall lining.
"I was able to use numerous training videos to get a handle on the procedure and then received feedback from doctors as to how accurate the feel of the trainer was," says Hutton.
To ensure the scene was as authentic as possible, laptops, projectors, and lights were used to imitate flashing emergency vehicle lights, and the sounds of panicked crowd chatter, sirens, yelling, and crying. A fog machine gave the setting a smoky, post-explosion haze and silicone blood pools, created by Smith and Hutton for safe and easy cleanup, were used alongside simulated patients (SPs) and manikins.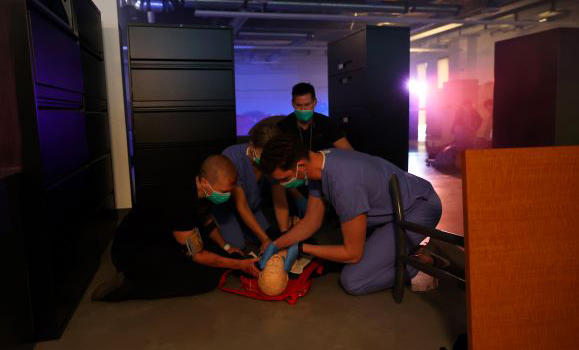 Guided by a healthcare professional, medical learners assess a child manikin alongside their parent during the workshop.
Arriving on scene

Learners arrived and were assigned to the on-scene or in-hospital groups. Maggie Flemming, a third-year medical learner and class co-president, was assigned to a group at the scene of the explosion, which she said was set up quite realistically. Simulation learning, which receives significant focus for medical learners in the final years of training, is something she says is extremely beneficial.
"I find it a very helpful way to see where your strengths and weaknesses are, and to understand the logistics of a specific scenario," she says. "Our simulations have never been as involved as the Disaster Preparedness Workshop, which included far more healthcare workers and simulated patients than we've ever worked with."
Volunteer physicians and nurses were in-hospital guiding and supporting the learners, while two military physicians, and a number of specially trained paramedics (including Emergency Preparedness and Special Operations (EPSO) paramedics) were on-scene offering their invaluable expertise. Some healthcare professionals were also allocated to the 'Dark Team.' Dressed in dark clothing to blend into the scene, the Dark Team oversaw specific patient cases throughout the session, adjusting the patient's trajectory based on how learners responded and performed.
"Each case has a step-by-step approximation of what should happen if they receive certain critical treatments or not, based on as time goes by," says Dr. Armstrong, who is an emergency medicine physician and medical director for both emergency preparedness at Nova Scotia Health and the Emergency Health Services EPSO division. "But because you never know what a learner is going to do, the Dark Team allows for a dynamic simulation and the clinical story can change depending on what people do in a way that is medically believable."
Recommended reading: Dalhousie innovators celebrated for their impact in Nova Scotia and beyond at Discovery Awards
Patient injuries ranged from physical to psychological trauma. The most disastrous physical injuries were limited to the manikins, which can be programmed to arrest, but SPs also had significant wounds and had to portray varied breathing rates and different levels of pain and consciousness.
"We had a lot of shrapnel wounds, a lot of burns, and in those instances, we had many different presenting injuries to allow a wide range of learning," says Armstrong. "It's tricky for folks because it's very easy to see physically if somebody's injured, but how do you treat somebody that is clearly not physically injured but is maybe in psychiatric distress?"
In all there were 17 SP cases, and eight manikin cases, some of which were deceased, which allowed learners the opportunity to triage someone who would be considered 'black' in the triage system. The simulation ran three times throughout the day, with roughly 40 learners in each session.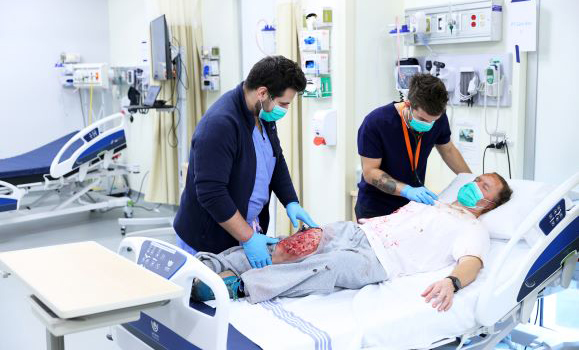 Medical learners in-hospital assess and treat a simulated patient presenting with a significant burn.
A new confidence

In the months leading up to the event, Armstrong and her colleagues recruited and trained SPs, while Thomas, and fellow clinical skills educator, Sheldon Payne, along with Dr. Harris, enlisted the help of healthcare professionals (HPs) to guide learners through the simulation. 
"We had over 30 health professionals from across New Brunswick and Nova Scotia dedicate their time completely voluntarily," remarks Armstrong. "There was no pay and they came and helped these learners through this experience. The SPs and HPs really stole the show for this one."
Feedback on the session has been incredibly positive from all those involved, with learners and HPs showing extraordinary enthusiasm for the experience.
And though just a simulation, Flemming and her fellow learners took it very seriously.
"It was really fun getting to put our skills to the test and push ourselves outside of our comfort zone. While we still have only done this once, we now have a better idea of the basic command structure and how to organize ourselves within that to be of most use."
Given its success, the hope is to continue the workshop for future classes of third year medical learners, expanding their learning from lecture to real-life and preparing our future physicians for a potential crisis.
"The simulation exposed learners to a huge breadth of clinical situations within a simulated high-stress environment," says Dr. Armstrong. "The exposure gives them confidence that if anything like this were to happen in real life, they would be able to adapt to it."