News
»
Go to news main
Aboriginal and Indigenous Law Website Launches at Schulich Law
Posted by
Stephanie Hurley
on September 18, 2023 in
News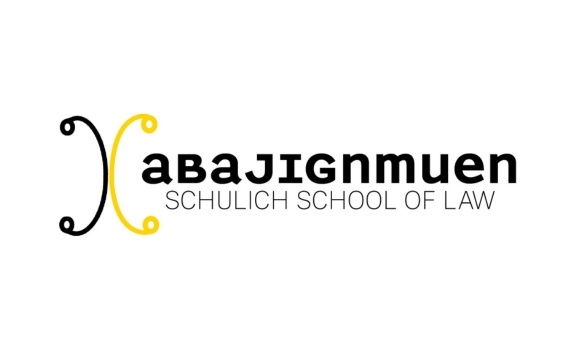 Congratulations to Naiomi Metallic, Schulich Law Associate Professor and the Chancellor's Chair in Aboriginal Law and Policy, on the launch of a new website highlighting the work of students, faculty, and staff of the Schulich School of Law in the areas of Aboriginal and Indigenous law. The website called Abajignmuen, which means "giving back" in Mìgmaq, currently features 50+ student projects that will continue to grow every year.
Metallic says the inspiration for Abajignmuen came from recognizing the hard work of students on papers and assignments in Aboriginal and Indigenous law courses. The website will allow those working and studying in this area to give back to the broader community by sharing what they are learning in an accessible way. The values and principles behind this project are in line with the Weldon Tradition – a belief that the law school's students and graduates have an obligation to use their knowledge to serve the community for the greater good.
"There is valuable information in this work that can benefit Indigenous communities, practitioners, and members of the public," says Metallic. "I believe there is a significant need for education and legal information in the area of Aboriginal and Indigenous law by the general public, the Indigenous community, and the legal profession."
The website contains a large and growing repository of access to justice (A2J) projects and papers created by students for courses they have taken at Schulich Law. These are intended to be resources to help the public achieve a better understanding of issues related to Aboriginal and Indigenous law.
The website also highlights the contributions of faculty and staff in this field and the work of the law school in this area, including the growing number of class offerings and information about the Certificate in Aboriginal and Indigenous Law.
In addition, the website includes information about the Lnuwey Dêbludaqan Wiguom (Indigenous law lodge) – a research, teaching and service unit dedicated to supporting Mìgmaq and other Indigenous groups in the region to revitalize and implement their laws, governance and economies based on their own Indigenous values, principles, protocols, and processes. This long-term initiative is currently in the early phases of development.
Metallic says the creation of the website was made possible by the valuable work of research assistants Claire Wayne ('22), Julia Witmer ('22), Tom Nichini ('23), and Kelti McGloin (JD/MI Candidate 2026) who all made significant contributions to the project.
Wayne says that she was excited to work on this website because of the opportunity to share information about Indigenous rights between academic spaces and the greater public. "I hope the website inspires its visitors to examine how Indigenous rights have an impact on their world, community, and country, and encourages them to participate in research and conversations about Indigenous rights and histories."
Witmer shares what made this project so special for her was the opportunity for academic work to have a practical impact. "Helping with Abajignmuen allowed me to see the content created by my peers and to understand it from the perspective of students. I feel very thankful that I had the opportunity to support Professor Metallic with this project and I am so excited for folks to review, read, watch, and learn!"
Nichini says that working on this website helped activate his learning, and that of his colleagues, into something useful and informative. "The expanse of legal issues related to Aboriginal and Indigenous Law sometimes feels daunting and inaccessible, particularly to those unfamiliar with Canada's legal system. Abajignmuen is an opportunity to showcase the thinking and work going on at the Schulich School of Law exploring decolonization and reconciliation."
McGloin says the website was created with laypeople in mind as the primary audience. All the student-authored work is written in plain English and, while not legal advice, offers practical guidance to those who may be personally impacted by an issue. The projects also cover a wide breadth of topics relating to Aboriginal and Indigenous law.
"As a JD and Master of Information candidate, I have a particular interest in the idea of 'access to legal information as access to justice.' To me this means making legal information understandable for a variety of people, not just lawyers and legal professionals – after all, the law impacts us all equally," says McGloin. "I often conceptualize legal information as being hidden behind a mysterious velvet curtain. I hope that Abajignmuen pulls back the curtain just a little bit to show people that it doesn't have to be boring or shared using impenetrable language and jargon!"
This website, and much of the work in Aboriginal and Indigenous law at the Schulich School of Law, is supported through the Chancellor's Chair in Aboriginal Law and Policy fund. This fund was created through the generous donation of Anne McLellan, PC, OC, AOE, past Chancellor of Dalhousie University.
"Congratulation Naomi and team for creating Abajignmuen at the Schulich School of Law," says McLellan. "This will be a place for all of us to learn more about the work being done by students, faculty, and staff in the areas of Aboriginal and Indigenous law. Thank you for sharing."
To explore the website, visit: https://www.abaji.ca