Anne McLellan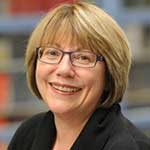 As a young farm girl growing up in rural Hants County, the Honourable A. Anne McLellan (1950-) dreamed of life in the "big city" of Halifax, where her aunt lived. Her dreams came true in 1968 when she was awarded a scholarship to Dalhousie, setting her on course for an immensely successful and distinguished career as an academic, politician and, most recently, the newest chancellor of her alma mater.
"My parents wanted me to go to Mount Allison, but I wanted to live in the city. I wanted to go to Dal," says McLellan. "I don't know where I'd be if it wasn't for Dalhousie. This place has made everything in my life to date possible."
McLellan adapted to life in the city quickly and never looked back. Graduating with a Bachelor of Arts in 1971, she was accepted into law school at Dal the following year. It was an exciting time to be a law student. New courses focusing on social justice expanded the course catalogue and extracurricular activities gave students plenty to do in their fleeting spare time. Between assignments and exams, McLellan worked once a week at the recently opened Dalhousie Legal Aid clinic on Gottingen Street.
"My Dal Law class was a group of very great people," she says. "We were the class of '74, and we thought we were pretty special. But so did a lot of other people."
After graduation, many of McLellan's classmates went on to hold prominent positions around the world (including her fellow Dal Chancellor, Fred Fountain). She was no exception. Degree in hand, she went on to complete a Master's of Law at the University of London before becoming a law professor, first at University of New Brunswick and then at the University of Alberta. Her move to Edmonton in 1980, the city she still calls home, forever changed her life.
Growing up in a "capital L Liberal house," McLellan had always been interested in politics and had even worked for local officials. But she never really saw herself running for office — until she did, in 1993, when she won the hotly contested federal seat of Edmonton Northwest.
The victory set in motion a whirlwind 13-year political career for McLellan, first as a Member of Parliament and then in increasingly senior roles in the federal cabinet. Handling difficult and important portfolios such as Health, Justice, Natural Resources, and Public Safety, McLellan proved herself an impressive and influential parliamentarian. Her esteem earned her the role of deputy prime minister under Paul Martin in 2003.
Leaving politics in 2006, McLellan turned her focus closer to her home province, working as a lawyer and as a distinguished scholar at the University of Alberta. She stayed engaged in the public sphere, too, leading the Federal Government's task force on marijuana legalization. But Dalhousie has remained close to her heart, which is why she agreed to chair Dalhousie's Advisory Council in 2011 and, subsequently, serve as the university's seventh chancellor.
"Dalhousie has been such an important part of my life," she says, "and the opportunity to give back as chancellor is one I would have never expected, but it's a great privilege."
Related links
Audio
Website

Dalhousie University