News
»
Go to news main
Register for the 2022 Weldon Mentorship Program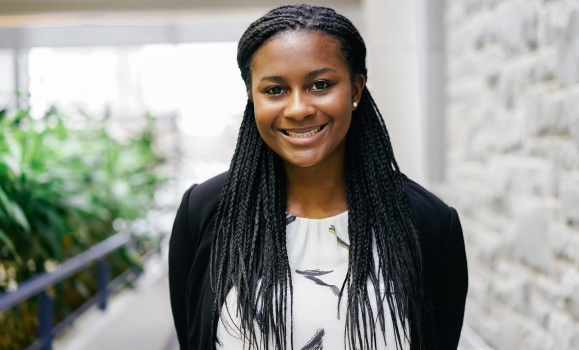 Registration for the 2022 Weldon Mentorship Program is open until May 20, 2022. The program is designed as a system of support and guidance aimed at helping students and recent graduates connect with alumni who can share their experience and insights. Second-year student Enniael Stair and  Schulich Law alumna Tamara Mida ('07) were paired together as part of the 2021 Mentorship Program. Read what Stair and Mida had to say about their experience.
Mentee - Enniael Stair, 2L Schulich Law Student
Why was it important to you to participate in the Weldon Mentorship Program?
I started law school with a vague idea about what the legal profession would be like. I did not know many lawyers or law students, and I had no idea what to expect. The Weldon Mentorship Program presented an opportunity to meet a lawyer and learn about the profession. I knew that a mentor would be an invaluable resource for me as I navigated law school and thought about how I wanted to start my legal career.
What are the benefits of having a mentor?
There are so many benefits of having a mentor. They can offer you career guidance, advice, support and encouragement. It is also an opportunity to build a relationship with someone currently in a position you hope to be in one day and learn from their experience. Mentors challenge you, push you out outside of your comfort zone and provide you with a new perspective. They can help you think about things differently or bring things that you have never considered to your attention. As a person who has successfully gone through exactly what you are going through now, the insight a mentor can provide is unparalleled. 
Why should other students consider getting involved?
Mentorship can be just as valuable, if not more valuable, than any law school course. There is no substitute for the knowledge that comes from personal experience. Receiving some of that knowledge as a student through mentorship will enrich your law school experience and prepare you to start your legal career.
Mentor – Tamara Mida ('07),
Solicitor with the Litigation Group for the Toronto Transit Commission
Why was it important to you to participate in the Weldon Mentorship Program? 
When I chose to attend Dalhousie Law in the early 2000s, it was because it was different. I was not interested in working on Bay Street. In Dalhousie, I found an environment of diverse students, faculty and opportunities. The support and encouragement I received at Dal Law allowed me to embark on a rewarding career path as a litigator for the government.
I participated in the Weldon Mentorship Program to pay it forward. There is a huge difference between the world of law at school and the world of practicing law. As a student, navigating between these two worlds can be difficult and sometimes even inadvertently misleading. It was important to me to participate in the Weldon Mentorship Program to draw on my experience, successes and mistakes to help the next generation of Weldonites.
What are the benefits of mentoring a law student?
After years of practice and its daily pressures, it is easy to become jaded. Mentoring a law student is a reminder of the days when the legal concepts were new, your manner of thinking was changing, and you began to be challenged in a new way. As a mentor, it is fulfilling to share that experience with a student and to discuss the possibilities for the future.
Why should other alumni consider getting involved?
It is important for alumni to pay it forward to a fellow Weldonite and support the law school that gave them their first three years in the world of law.
To register today, visit the Weldon Mentorship Program.