News
»
Go to news main
Registration opens for Weldon Mentorship Program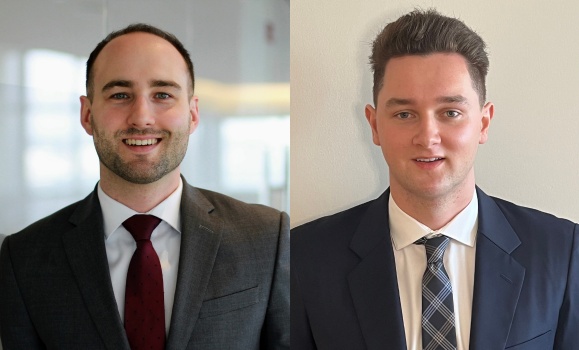 Registration for the 2022 Weldon Mentorship Program opens on March 7th. The program is designed as a system of support and guidance aimed at helping students and recent graduates connect with alumni who can share their experience and insights. Alumnus Patrick Brousseau ('18) and 2L student Matthew Hardie were paired together as part of the 2021 Mentorship Program. Read what Brousseau and Hardie had to say about their experience.
Mentor - Patrick Brousseau ('18),
Corporate Legal Counsel at CarbonCure Technologies
Why was it important to you to participate in the Weldon Mentorship Program?
As someone who has benefited in the past from a mentor-mentee relationship, I thought the Weldon Mentorship Program was a good opportunity to give back and help others in a similar position. For law students in particular, the available career options and areas of practice can be daunting and difficult to navigate. Having someone to discuss these aspects with can be very clarifying. 
What are the benefits of mentoring a law student?
Besides being able to give back to the Weldon community, I've found that mentoring a law student has helped me stay connected with the issues that law students and new associates might face in the workplace or job market. It has also been a tremendously rewarding experience to help my mentee achieve specific career goals that they've identified. 
Why should other alumni consider getting involved?
I think if many alumni reflect on their time as a law student, they will realize that they would have benefited from a mentor. This might take a variety of forms: advice on managing course loads, looking for a job, etc. In all cases, it can be very helpful for students to talk with someone who has experienced the same things that they are going through and reassure them. Law school and articling can be a stressful time for many, and sometimes all people need is for someone to listen and provide guidance where possible.
Mentee - Matthew Hardie, 2L Schulich Law Student
Why was it important to you to participate in the Weldon Mentorship Program? 
The Weldon Mentorship Program gave me an opportunity to develop a strong bond and speak candidly with a practicing lawyer in my area of interest. This experience has been invaluable for me throughout the summer and articling recruitment process. The Weldon Mentorship Program allowed me to work through situations in a safe environment with someone who has been through this before. 
What are the benefits of having a mentor?
Having a mentor allows you to navigate times of uncertainty and approach situations with more confidence. A mentor can help you navigate law school, learn about different practice areas, balance life as a lawyer, and give advice about the articling recruitment process. 
Why should other students consider getting involved?
As a young future lawyer, the Weldon Mentorship Program is a great way to begin building your network and learning about prospective industries. During the busy life that is law school, it is nice to know that you have someone that can answer the tough questions for you and guide you through times of uncertainty. This is an opportunity that all students should take advantage of.
To register today, visit the Weldon Mentorship Program.