News
»
Go to news main
Assistant Professor Suzie Dunn Accepts Tenure Track Offer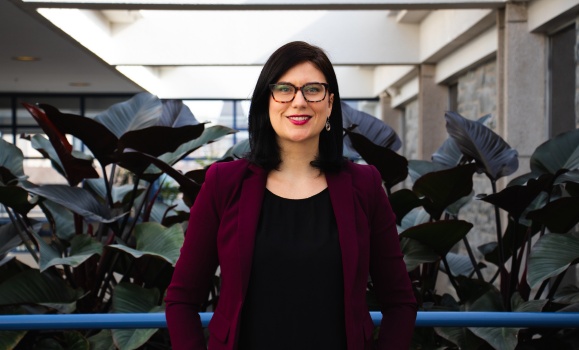 Congratulations to Schulich School of Law Assistant Professor Suzie Dunn, who has accepted a full-time, tenure track position that will begin on July 1, 2022.
Dunn joined Dalhousie's Schulich School of Law as a limited term Assistant Professor in 2021-2022 where she has been teaching contracts, law and technology, and intellectual property law, as well as coaching the Harold G. Fox Intellectual Property moot team. She was recently nominated for the Dalhousie Law Student's Society Excellence in Teaching Award.
"It was a pleasure to have Suzie with us this year and we are delighted that she will be joining us on a full-time basis," says Camille Cameron, Schulich Law Dean. "In addition to her excellence as a teacher, which she has been recognized for with teaching nominations and awards, her research achievements are already remarkable. She will be able to make a significant contribution to our work in the fields of law and technology, including the growth of our Law and Technology Institute and to our interdisciplinary collaborations with the Faculty of Computer Science."
Dunn is currently completing her PhD dissertation, "Privacy and Personality Rights: An Equality Focused Examination of Digital Identity Manipulation", at the University of Ottawa, Faculty of Law. Her research centers on the intersections of gender, equality, technology and the law, with a specific focus on the non-consensual distribution of intimate images, deepfakes, and impersonation in digital spaces. She was awarded the Joseph-Armand Bombardier Scholarship for her PhD research.
While at the University of Ottawa she was a part-time professor, teaching contracts law, a specialized course on the law of images, and supervised upper year directed research papers. In 2021, she was awarded a Part-time Professor Award for Excellence in Teaching from the faculty of law.
As an innovative thinker with a deep passion for equality, human rights and technology, she has published and presented her work both nationally and internationally on issues including the importance of internet connectivity for northern youth, the application of Canadian law to deepfake technology, and civil responses to the non-consensual distribution of intimate images. One of her most recent publications on technology-facilitated violence was awarded the 2021 Shirley Greenberg Chair for Feminist Research.
"I'm thrilled to be staying on at the Schulich School of Law, which has such a commitment to law and technology scholarship. I'm looking forward to working alongside the faculty in the Law and Technology Institute, the Canadian Journal of Law and Technology, and the initio Technology and Innovation Law Clinic," says Dunn. "Dalhousie is also a fantastic institution to work collaboratively on interdisciplinary projects, which are essential for law and technology research. It will be an ideal setting to continue my research on technology, equality, and the law and to foster the next generation of technology lawyers."
She currently sits on the Women's Legal Education and Action Fund's Technology Facilitated Violence Project committee where she has co-authored submissions to the Federal Government on its Online Harms technical paper, the Toronto Services Police Boards policy on police use of artificial intelligence, and Nova Scotia's review of its Intimate Images and Cyber-protection Act. She is also is an Associate Member of the Centre for Law, Technology and Society, and is a senior fellow with the Centre for International Governance Innovation where she is conducting a global study on the impacts of technology-facilitated violence. Dunn was called to the Ontario bar in 2016.
You can find her on Twitter @SuzieMDunn or visit her website at www.suziedunn.com.