News
»
Go to news main
Exploring the Ethical and Professional Responsibilities of Business Lawyers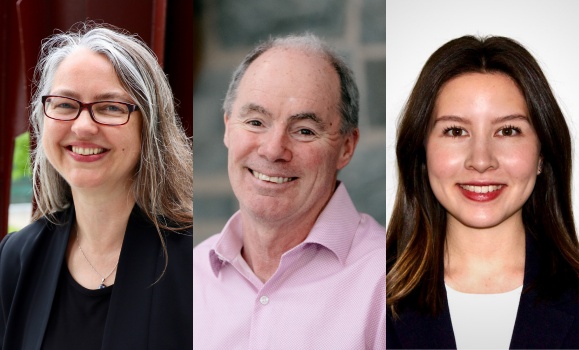 In September of 2019, the Schulich School of Law hosted its annual Purdy Crawford Business Law Workshop. The opening session was a joint initiative of the Osler, Hoskin & Harcourt LLP Business Law Forum, and the F.B. Wickwire Memorial Lecture co-sponsored with the Nova Scotia Barristers' Society. The session entitled: The ethical and professional responsibilities of business lawyers: Business, Human Rights, and the Sustainable Development Goals was comprised of expert panel members, John F. Sherman, Penelope Simons, Larry Catá Backer, and Birgit Spiesshofer, and moderated by Sara Seck, Schulich Law Professor, Yogis and Keddy Chair in Human Rights Law and Associate Dean, Research.
In September and October of this year, papers resulting from that lecture written by each original panel member were published online in the international journal Legal Ethics. Schulich Law's Seck, Professor Richard Devlin and Siobhan Quigg, student-at-law, wrote the introduction and edited the symposium Soft law, legal ethics and the corporate lawyer: confronting human rights and sustainability norms.
The papers identify and explore the contested terrain of the ethical obligations of the corporate lawyer who has to contend with the emergence of soft law norms. A prominent example is the 2011 United Nations Guiding Principles on Business and Human Rights which promote the independent responsibility of businesses to respect human rights. Although all contributors did not share a common vision, they were united in the conviction that soft law is a challenge, and an opportunity, for the contemporary corporate lawyer who must confront ethical dilemmas. The full set of papers appear in Volume 24, 2021 and can be found at: https://www.tandfonline.com/toc/rlet20/24/1?nav=tocList.
"Corporate lawyers face ethical challenges every day of their working life, from choosing their clients, to the advice they give, to the litigation strategies they pursue, to the jurisdiction in which they operate," says Devlin, who is also a co-editor of Lawyers' Ethics and Professional Regulation.
These ethical dilemmas often stimulate important conversations and debates. In Canada, these conversations have led to the development of Lawyers for Climate Justice (L4CJ), a multi-disciplinary group of lawyers from across Canada that focus on advancing climate justice within the legal profession. As such, the legal profession – as individuals, law firms, associations, and regulatory bodies – has an ethical obligation to consider what role they should play in responding to the climate crisis.
Recently, there has been a youth-led push to boycott law firms that play a key role in supporting the fossil fuel industry. The next generation of lawyers are closely following the role that law firms' play.
According to Seck, "Climate change and other sustainability challenges are increasingly viewed through a human rights lens. As a result, social expectations of businesses – and their law firms which are businesses themselves – are rapidly evolving."
Business and human rights (BHR) law continues to be an emerging area of practice in Canada and globally. The Canadian Bar Association recently released a business and human rights guide for lawyers. The introduction states, "In a world that requires businesses to respect human rights throughout their operations and relationships, this guide hopes to assist businesses and their counsel to seize an opportunity for a more just and equitable future.
Seck adds, "Our hope is that this collection of papers will stimulate further discussion and clarification of the ethical responsibilities of business lawyers when engaging with clients that are contributors to what the United Nations describes as triple planetary crisis: climate change, nature loss, and pollution."