News
»
Go to news main
Two law professors recognized with 2019 Dalhousie Legacy Awards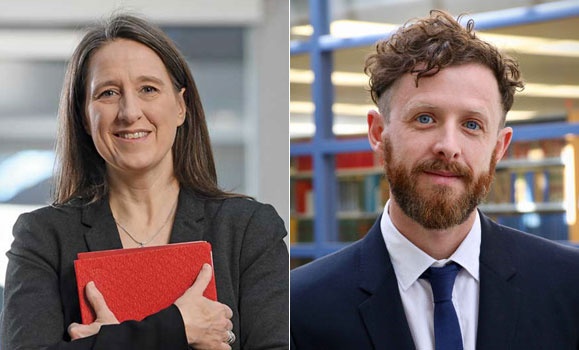 The Schulich School of Law is pleased to announce that Professor Jennifer Llewellyn and Professor Matthew Herder are the recipients of 2019 Dalhousie Legacy Awards. The Legacy Awards, which took place on June 19 at the Rebecca Cohn Auditorium, collects more than 20 different recognition awards from across the university into a single event, covering all areas of impact at Dal including teaching, research, service, and health and safety.
Both Llewellyn and Herder received the President's Research Excellence Award for Research Impact, which recognizes the achievements of Dalhousie faculty members who have made significant impact in their field of research.
Llewellyn is the law school's Yogis and Keddy Chair in Human Rights Law and an international expert in restorative justice. She has consistently demonstrated a deep commitment to the values of restorative justice through both her academic work and her personal life.
Her teaching and research is focused in the areas of restorative justice, truth commissions, international and domestic human rights law, and Canadian constitutional law. She is the author of multiple publications and reports on the theory and practice of a restorative approach.
Read more: Waves of recognition and respect - Second-annual Dalhousie Legacy Awards celebrates faculty and staff (Dal News)
Herder (LLB '03, LLM '06) is an associate professor in the Faculty of Medicine's Department of Pharmacology with a cross-appointment in the Faculty of Law. He is also the director of the law school's Health Law Institute and a Canadian Harkness Associate in Health Care, Policy, and Practice.
His research interests cluster around biomedical innovation policy, with a particular focus on pharmaceutical drugs. He is the principal investigator on a research project funded by the Canadian Institutes of Health Research and frequently appears before parliamentary committees and policymakers regarding issues of drug regulation.
Congratulations to both faculty members for their leadership, dedication, and impact and the important contributions they have made to the law school, the country, and beyond.