Leadership, dedication, impact: those were just a few of the many qualities used to describe the individuals honoured at the Dalhousie Legacy Awards Wednesday afternoon in the Dalhousie Arts Centre's Rebecca Cohn Auditorium.

Now in its second year, the awards ceremony offers a chance for all members of the Dal community to come together at a university-wide event to collectively recognize the accomplishments of their colleagues.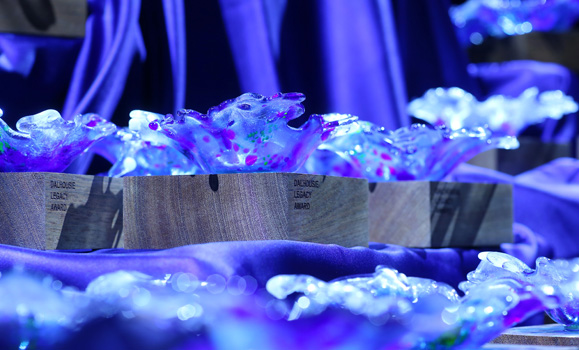 "Many faculties, departments and units have their own awards and celebrations, and we think those are really important ingredients for the cultures of those units, but the Legacy Awards intends to do something a little different and that's to bring us all together to highlight a few strategically aligned awards that showcase our strengths as a community," said Jasmine Walsh, assistant vice-president of Human Resources and the event's MC.

The Legacy Awards collects more than 20 different recognition awards from across the university into a single event, covering all areas of impact at Dal including teaching, research, service, and health and safety. Recipients range from individuals to larger teams.

"Our university succeeds not only just on the strengths of our individuals who make the biggest waves, but everything that each and everyone of you does everyday. That matters and has an affect across the academy, into the classrooms, across the campuses, into the clinics and out into the community, the region and beyond," said Teri Balser, Dal's provost and vice-president academic, in remarks at the event.

The physical awards themselves were handcrafted by two Nova Scotian artists: Lisa Martin-Cole, a glass artist and owner of The Jeremiah Tree shop in Amherst, and Allan Carver, an experimental artist from Hubbards. The awards consist of a glass sculpture depicting splashing water that sits atop a textured wooden base.

The sculpture serves as an apt symbol for the accomplishments of Dal's faculty and staff, said Walsh.

"Each of our employees is like a stone in the water, making ripples that create waves that combine to lead Dalhousie's lasting impacts."
See the full list of award winners: Dalhousie Legacy Awards
More coverage