News
»
Go to news main
New Access to Justice and Law Reform Institute of Nova Scotia aims to '€˜put the public first'™
Posted by
Jane Doucet
on January 17, 2019 in
News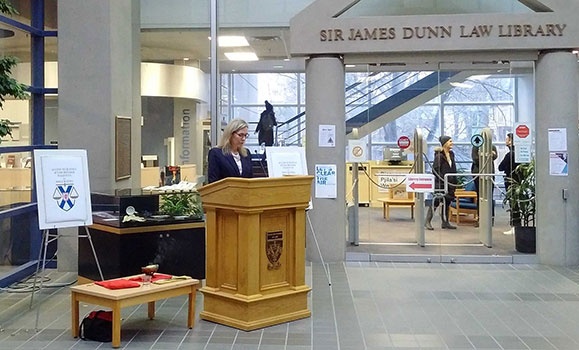 Studies have shown that people with lower incomes and members of vulnerable groups experience more legal problems than those who earn more. They also face more challenges when navigating the legal system, often due to a lack of money or education or poor health. A new institute that will be housed at the Schulich School of Law intends to respond to the needs of the Nova Scotians who experience barriers when accessing the legal system.
The grand opening of the Access to Justice and Law Reform Institute of Nova Scotia was held on Jan. 16 in the law school's Atrium. The event also highlighted the release of the Access to Justice Coordinating Committee's final report of 2018.
The Institute, which will serve as an access to justice hub, will co-ordinate projects that allow work encompassing both traditional law reform and access to justice orientation. This includes gathering and analyzing data to help develop projects associated with government priorities, such as how to work collaboratively on access to justice initiatives, generate new policy goals, and develop new legislative proposals to accomplish those goals.
"We're pleased that the law school could contribute to these discussions and provide space for the Institute," said Schulich School of Law Dean Camille Cameron at the opening. "The contributions and commitment of many people, in particular Professor Robert Currie and former dean Bill Charles from the law school community, helped us get where we are today."
We finally have organized, independent, non-governmental law reform that will be carried on at the law school. Dean Horace Read would have been joyful and proud, and so am I. — Professor Bill Charles
In attendance were faculty, students, staff, alumni, government officials, and members of the judiciary and other legal professionals. Currie, who is the Institute's acting president, praised the work of the organization's stakeholders.
"This new body is the result of a unique partnership between the law faculty, the governments of Nova Scotia and Canada, the Law Foundation of Nova Scotia, the Nova Scotia courts, and the Nova Scotia Barrister' Society—not to mention all of the supporters of the former Law Reform Commission," said Currie. "The Institute is looking forward to expanding the scope of our partnerships even further in the future."
Speakers included The Hon. Michael MacDonald and The Hon. Mark Furey, who are co-chairs of the province's Access to Justice Coordinating Committee. MacDonald spoke of the two overarching themes that led to the creation of the Institute: collaboration and putting the public first. "Access to justice has to begin with our marginalized communities," he said. "We need to get to know the Black and Indigenous communities of our province better."
Bill Charles was the first president of the Law Reform Commission of Nova Scotia from 1991 to 1995. He has dedicated his career to law reform and remains active on the Commission today as special counsel.
"I welcome with great relief and happiness this announcement," Charles told the audience. "Now after all these years, we finally have organized, independent, non-governmental law reform that will be carried on at the law school. Dean Horace Read would have been joyful and proud, and so am I. It's the beginning of a new era, one full of promise."