News
»
Go to news main
This sister and brother from Yellowknife are enjoying their joint Schulich Law experience. Their secret? Live apart and don't compare grades
Posted by
Jane Doucet
on September 20, 2018 in
News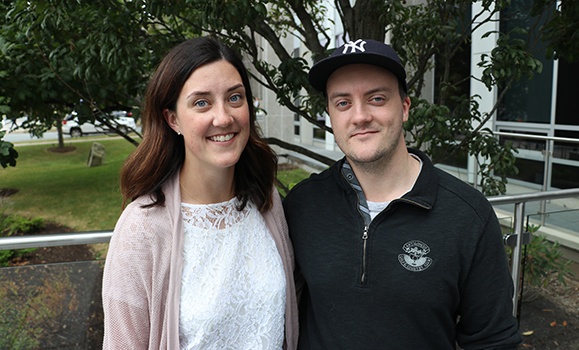 After featuring two sets of brothers at Schulich Law—Eyoab and Abel Begashaw in first year and Allan and Jack MacDonald in third year—we discovered another set of siblings studying here: second-year students Kathleen and Connor O'Brien. Kathleen, 26, and Connor, 22, who hail from Yellowknife and are enjoying their joint law school experience, shared ther secrets to being successful both as students and siblings. 
How did you end up attending law school together?
Kathleen: I knew that Connor had been applying to law schools, and I was in the midst of applying to both PhD programs and law schools. I applied to Dalhousie on short notice, and it wasn't until we ended up writing the LSAT on the same day that I found out we had applied to the same school. When we were accepted, I was working in the Northwest Territories and found out through our parents that Connor had also been accepted.
Connor: I was in my fourth year of undergrad and having a hard time choosing between law school and an MBA. I decided to write the LSAT in February of 2017 and apply to Dal. Kathleen and I both got accepted in March. It really is by chance that we got in at the same time, especially considering how far apart we are in age.
Why did each of you decide to apply to the Schulich School of Law?
Kathleen: I wanted to stay on the East Coast, particularly in Halifax. I was finishing my master's at Dal, working for the Government of the Northwest Territories, and trying to decide what to do next. Law was always in the back of my mind, so when I was accepted it felt like a natural fit. I wrote my master's research on the administration of mental health in the armed forces, and the focus on health law at Schulich Law appealed to me.
Connor: Because our parents grew up in Halifax and Dartmouth, Halifax has always been a second home. I enjoyed my undergrad on the East Coast and wasn't ready to leave. Also, I knew a few people who were attending Schulich Law when I applied who had nothing but great things to say about the school.
What are the advantages of having a sibling in the same year?
Kathleen: I moved away from home in high school to play hockey in Ontario, so Connor and I have lived apart for nearly 10 years, with the exception of a few summers. It has been great to finally be in the same place and in the same group of friends because it's an opportunity for us to make up for lost time. Living so far away from our parents can be difficult at times, so it's nice to have family around.
Connor: We've actually become closer than ever.
What are the disadvantages? (Be honest!)
Kathleen: We're both opinionated, so our dinner conversations have intensified. Our friends can attest to some heated debates! We have one class together this year, which I think is the most the two of us could handle.
Connor: We can be pretty competitive. We also have a tendency to argue when we disagree, so you can imagine how being in a program that teaches you how to argue has given our parents some headaches.
Are you competitive when it comes to your classes?
Kathleen: We aren't. We both have our own areas of interest—Connor's is corporate law, mine is criminal and health—so we have been able to help each other in areas that the other may be more proficient in. We are competitive in other areas, however, including who got a higher LSAT score (Connor beat me by one point) and who was accepted first (I got in a week earlier), but it's always lighthearted.
Connor: We struck a deal with each other before starting first year that we weren't going to share or compare grades, to save the headaches.
Do you live together?
Kathleen: Living together was off the table quickly for both of us! Last year we lived across the street from each other, which was great. Connor is also an excellent on-call dog-sitter.
Connor: We have a good relationship and want to keep it that way!
What do each of you hope to do after you graduate?
Kathleen: I plan to pursue a career in criminal law and hopefully do some work in health law. I am passionate about mental health and related advocacy work, especially within the criminal justice system. I would like to stay in Halifax but have also entertained the idea of going back to the Northwest Territories for a while.
Connor: I'm hoping to secure a position with a firm and work in business law.
There are two brothers in first year. What advice would you give them?
Kathleen: Enjoy your first year and work hard. Having a sibling can be an amazing support system when you face the inevitable challenges law school throws your way, so make sure you use it.
Connor: Don't compare grades, and use each other as a resource. Most people aren't as lucky as we are to go to school with a sibling, so consider it a benefit and leave the debating for the dinner table.