News
»
Go to news main
Third‑year Schulich Law students Allan and Jack MacDonald save brotherly competition for the golf course, not the classroom
Posted by
Jane Doucet
on September 12, 2018 in
News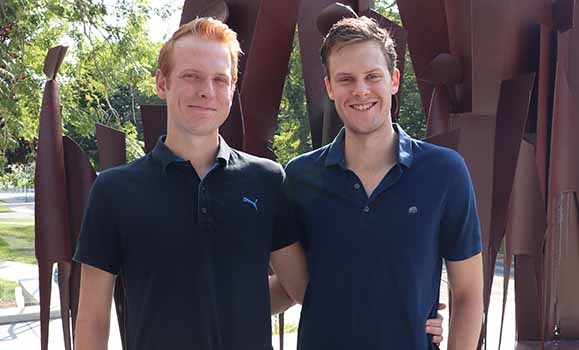 Last week we posted a story about Halifax brothers Eyoab and Abel Begashaw, who are starting their first year of studies at the Schulich School of Law. Today we're featuring another pair of Halifax brothers, Allan and Jack MacDonald, who are in their final year at the law school. Allan, 25, and Jack, 23, shared with us how they wound up at Schulich Law together—and even had some advice for the Begashaws.
How did you end up at law school together?
Allan: I took a year off between my undergraduate degree and law school because I was considering other career paths. Jack was set on law from an early age and fast-tracked his undergraduate degree.
Jack: My goal was to go to Schulich Law, and I took the opportunity to use my IB credits from high school and graduate with a history degree from Queen's after three years. Allan and I took a couple of courses at Queen's together, so it felt pretty natural being in classes with him at Dal.
Why did each of you decide to apply to Schulich Law?
Allan: It was my first choice because Jack and I were born and raised in Halifax. After my undergraduate degree at Queen's, I realized I wanted to spend my life in Nova Scotia. Our dad also graduated from Dal Law, in 1987, and we figured it would be cool to carry on the tradition.
Jack: Though I went to a university in Ontario for my undergrad, it became clear to me early on that I wanted to end up in Halifax. I knew that Schulich Law had a great reputation, and I made it a goal to attend. Allan and I didn't plan to be in the same class, but it was the right move for both of us at the time.
What are the advantages of having a brother in the same year?
Allan: The biggest advantage is having your best friend to rely on and share the experience with. We help each other study and rehearse oral arguments together.
Jack: We bounce ideas off each other about assignments, exams, or anything really. It's a huge benefit to be in class with someone who always has your best interests in mind. It's been great to share friend groups, too. We've made a lot of good pals here, and the last two years wouldn't have been as fun without Allan.
And the disadvantages? Be honest!
Allan: There are none!
Jack: Only that I don't get to be the tallest person in our class (we are the same height, six foot seven).
Are you competitive when it comes to your classes?
Allan: We aren't overly competitive in school. We want each other to do as well as possible. This isn't the case when it comes to whiffle ball or golf, however. We like to think that our games are the pinnacle of human drama. Triumphant victory, crushing defeat, and significant property damage have all featured heavily in our matches over the years.
Jack: There is enough competition in law school, so we approach it as more of a team game than an individual sport. That being said, I've always tried to beat Allan as badly and as often as possible in any sport or game we've played against each other—and there have been lots of them!
Do you live together?
Allan: We chose not to live together because we see an inordinate amount of each other day to day. We take many of the same classes, golf together, work out together, eat together, and have gone to the same school and played on the same sports teams our entire lives. Living apart helps us make sure we don't get overly reliant on one another.
Jack: It might be a little much to live together full-time given that we see each other at work or school every day and are always doing activities together. I think the ideal situation would be to be neighbors with Allan one day.
What do you hope to do after you graduate?
Allan: We both spent our summer working at Patterson Law in downtown Halifax. We're interested in criminal defence work and some civil litigation. Ultimately, we want to spend our days litigating or sitting at the bargaining table.
Jack: Allan and I are also going to be articling together after we graduate. We both want to become litigators. I think it's a career path that is well suited to both of our skill sets, and I'm excited to get started.
What advice would you give to the Begashaw brothers?
Allan: Work hard through the week but give yourself the weekends (when possible) to unwind. Find your respective strengths and use them to help maximize your collective efficiency. Stick together but know when to give the other space.
Jack: Focus on enjoying your time in law school together. Work hard but don't let your courses stress you out. It goes by really quickly, so try to stop and smell the roses as often as possible.