News
»
Go to news main
Schulich Law Professor Rob Currie is back in the classroom after a 'socially useful' sabbatical
Posted by
Jane Doucet
on September 6, 2018 in
News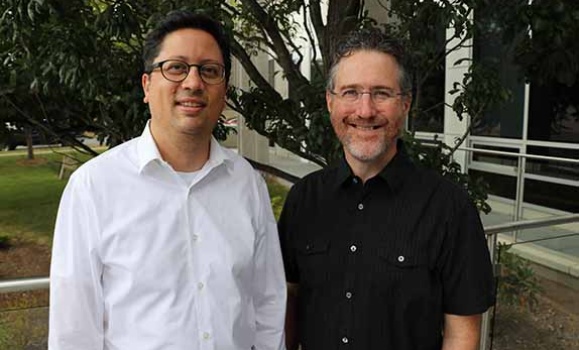 When Schulich School of Law Professor Robert Currie embarked on his year-long sabbatical in July of 2017, he had three goals: to do something "socially useful"; to make some contribution to society in the spirit of the Weldon Tradition of unselfish public service; and to get back into criminal law in a practical way. With that in mind, he decided to do pro bono work at Nova Scotia Legal Aid (NSLA), working around 20 hours a week alongside Schulich School of Law alumni Roger Burrill (LLB '85) and Currie's former student Lee Seshagiri (LLB '06).
"I thought working with Nova Scotia Legal Aid would be an exciting way to explore the front lines of the justice system," says Currie. "I talk a lot about access to justice, both in and out of the classroom, and I wanted to put my money where my mouth was."
I'll bring back to the classroom concrete insight about what it's like to be a criminal lawyer. There was no doubt in my mind that this was going to make me a better teacher. 
— Professor Rob Currie
At NSLA, Currie did criminal appeals and merit assessments of potential appeals, worked on written arguments, and appeared in court twice. "I argued one appeal, which was successful, and also completed a bail pending appeal motion," he says. "It felt great being back in court. I really enjoy advocacy, particularly the back and forth with the judges. But while I teach it, I hadn't actually done it in 14 years."
Currie was a trial and appeals lawyer when he practiced in Halifax from 2000 to 2002, but he only worked on civil matters. "Legal aid clients are an entirely different demographic than civil practice clients," he says. "They are the disadvantaged in our society and often in and out of jail. It was very stimulating work."
Natural collaborations
During his time away from teaching, Currie also delved more deeply into his teaching and research. With Seshagiri, he developed an upper-year clinical course on criminal appeals practice. There will be no exam; instead, the students will prepare and argue a mock appeal. In January Currie will co-teach it with Seshagiri, who came up with the idea for it.
"It was a pleasure to work with Rob," says Seshagiri, referring to both their NSLA and course collaborations. "It felt natural because I had worked with professors while I was at law school, including Rob. While he was at Legal Aid, he was exposed to all aspects of a criminal appeals practice. Legal Aid reflects the Weldon Tradition of unselfish public service, and Rob was working for us pro bono, which speaks to his character."
Legal Aid reflects the Weldon Tradition of unselfish public service, and Rob was working for us pro bono, which speaks to his character. — Lee Seshagiri
Currie also conducted research in international and transnational criminal law under the auspices of a five-year SSHRC Partnership Grant entitled "Justice for Victims of International Crime." He's working with a coalition of NGOs, academics, and lawyers spearheaded by an NGO in Argentina who are trying to create a transnational criminal court for Latin America and the Caribbean region.
Another of Currie's projects involves changing Canada's controversial extradition laws. Carleton University professor Hassan Diab was freed from a French prison in January, where he had been held for more than three years on terrorism charges after being extradited from Canada in 2014. Currie, who is often consulted by the media on cases involving cross-border crime, did a number of interviews about what went wrong. "His story was so horrendous that the prime minister and foreign affairs minister said this shouldn't have happened," he says. "We need a serious law reform exercise to rewrite Canada's extradition statute."
Later this month, Currie will chair a meeting of Canadian experts—academics, extradition lawyers, human rights NGOs, and retired judges—at Dalhousie's MacEachen Institute of Public Policy and Governance. They'll aim to generate preliminary law-reform proposals to feed a larger-scale conference in Ottawa in November (his SSHRC grant supports this work).
Currie believes it's good for academics to work in their discipline now and then. "My experience at Nova Scotia Legal Aid has made my own legal writing more credible, sharper, accurate, and useful to the profession," he says. "I'll bring back to the classroom concrete insight about what it's like to be a criminal lawyer. There was no doubt in my mind that this was going to make me a better teacher. I loved working there and I learned what I hoped I would learn, but I wouldn't leave teaching to litigate. Teaching is my first love."