News
»
Go to news main
KUDOS! Five Schulich School of Law students win 2017‑2018 Impact Awards
Posted by
Jane Doucet
on March 26, 2018 in
News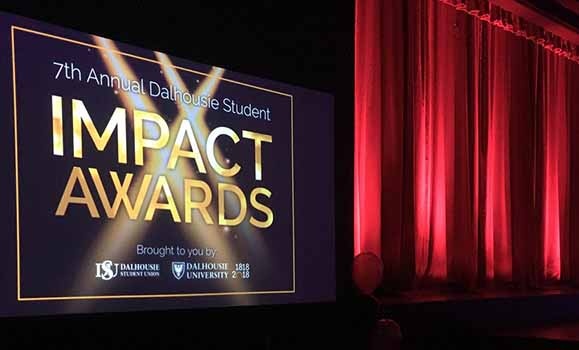 Dalhousie students are known for their academic excellence, but their achievements outside the classroom are equally impressive. The Dalhousie Student Impact Awards is an annual event hosted by the Dalhousie Student Union, in collaboration with Dalhousie University, to recognize outstanding individuals and student groups that impact our community.
The seventh annual Impact Awards gala ceremony was held on March 22, and we're thrilled to report that five Schulich School of Law students were among the recipients. "We are proud of these students who, in addition to working hard on their courses, have found time to make important contributions to their Dalhousie community," says Dean Camille Cameron. "They are shining examples of our law school's Weldon Tradition of unselfish public service."
We'd like to extend our heartfelt congratulations and pride to the following students:
Sarah Boucaud (3L), Faculty Leadership Award 
Awarded to: a student in good academic standing in each Dalhousie faculty. These students exemplify the highest level of passion for their discipline, take initiative in creating new opportunities, and encourage their peers to engage in faculty initiatives. Faculty Leadership Award winners positively impact other students in their faculty and the reputation of their faculty at Dalhousie outside of the classroom.
Nomination excerpt: "Sarah spearheaded the overhaul of Dalhousie Student Advocacy Society's operating policies and regulations. She developed DSAS's pilot Translation project, which offers translation services to international students at Dalhousie who are navigating university processes such as academic integrity hearings and Senate Disciplinary Committee. Sarah managed much of DSAS's Internal operations last year, including the co-ordination of cases and advocates. She also participated in advisory meetings for the drafting of Dalhousie's new Sexual Violence Policy."
Melissa Pike (3L), DSU Gold D 
Awarded to: Dalhousie students to recognize an elite level of involvement and achievement in campus life over the course of their university career. These students have shown outstanding extracurricular contributions in the community.
Nomination excerpt: "Melissa organized and hosted countless Women in Law events where she would bring in practicing female lawyers to network with and mentor young female law students. Melissa is one of the few law students who not only worked at Dalhousie Legal Aid Service in her first summer of law school but also went back in her last year for the clinical practice. With her strong voice, Melissa extends this ethos of defending those whose voice is systemically silenced by being an effective advocate for woman, students with special needs, and those in poverty."
Jennifer Power (3L), Certificate of Distinction
Awarded to: students who demonstrate above-average contributions to campus life over the course of a university career.
Nomination excerpt: "During her time at Weldon, Jenn has transformed career services and opportunities for law students. First, she created a student employment roster so that law students can connect with Dal grads at law firms across the country and around the world. Second, she has worked to create new articling opportunities in social justice/legal aid for law students in Nova Scotia. Third, she is an advocate for all law students and always makes time to help other law students. From sharing career tips to personally referring students to law firms to coaching on trial practice, she enthusiastically provides her time, support, and advice. Jenn embodies the Weldon Tradition of public service and personal excellence."
Stefan Schmidt (2L), Green Award 
Awarded to: a student who has made a significant contribution to improving awareness of sustainability issues at Dalhousie. This person's actions reflect their passion for the environment and inspire others to make positive change.
Nomination excerpt: "As the Environmental Law Students' Society (ELSS) co-chair, Stefan has been the driving force behind a number of impressive sustainability initiatives this academic year. Last summer he approached Schulich Law Dean Camille Cameron about stopping the use of bottled water at law school functions; as a result, the law school has declared that it will no longer use bottled water at its functions. Stefan has also been spearheading an environmental rights campaign to support the efforts of local environmental organizations like the East Coast Environmental Law Association and the Nova Scotia Environmental Rights Working Group. In the final stages of the campaign, ELSS members will seek meetings with local MLAs to engage with them in conversations about the issue."
Alexandra Terrell (2L), Student Employee Award 
Awarded to: a student employee who has demonstrated leadership and fostered community spirit in their work on campus. This student will be employed in any capacity on campus and, through their work, contribute to the Dalhousie student experience.
Nomination excerpt: "Alex was hired as a student researcher by the TRC Committee last spring and has been instrumental in supporting the Committee. When tasked with compiling teaching materials to assist faculty with integrating more Aboriginal and Indigenous Law content into their courses, she demonstrated strong leadership, independence, and ingenuity in helping develop an online database to make these materials accessible to all faculty members. Likewise, Alex helped research and assemble materials for a new first-year course on Aboriginal and Indigenous Law, during which she showed great initiative by carefully selecting course readings and drafting summaries to assist the students in learning. Alex has demonstrated a true commitment to fostering a community spirit at the law school and stands out as a student who does not hesitate to put her commitments into action."
Click here to view the complete list of 2017–2018 Impact Award winners.