Register for courses

Before you register
You can check your registration status to see when it opens for you. We recommend creating your schedule before registration day. 
How to register (add courses)
To register for classes, login to Dal Online and follow this path:
Registration > Register for classes to open the Registration Landing Page.
Register for Classes > Select Term * > Continue
* Caution: if when you try to add courses you get a "CRN does not exist" error, you'll likely need to return to this step to select the correct term.  If registering for the fall term, beware that winter might be the default term so you'd need to change it before continuing. 
Note: Some programs require block registration—meaning that you register in a block of courses.
Click on the Enter CRNS tab in the top panel:


In the CRN box, enter the Course Reference Numbers (CRN) for the section in which you wish to register. Click the +Add Another CRN link to add more blank boxes to be able to add the CRN's for all your lectures, labs and tutorials; the link can be pressed multiple times in a row to add more boxes to be able to quickly enter all the CNR's together.
Then click Add to Summary. 
The courses you've chosen will be listed in the Summary panel at the bottom of the screen. To complete registration use the Submit button under the summary pane (you will not be regisstered in the courses if you leave the page before clicking the Submit button).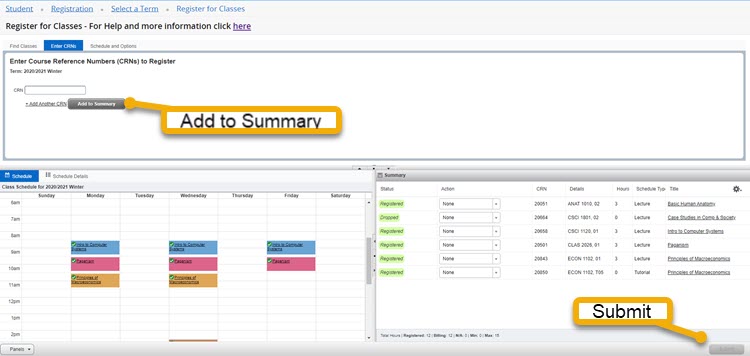 Confirm registration was successful with a "Web Registered" status in the summary panel for all the sections; also, View your Schedule to ensure no time conflicts.
Review the Adding a Course video to see what that would look like; and the Registration Videos page for more information.
 
If a course is full, you'll receive an error message after trying to register for it. If there is a wait list and there is space available on it, use the Action drop down in the summary and click Submit to add yourself to the wait list for this course. Learn more about waitlists and how to add yourself. 
If you encounter other registration errors, see Dal Online's Help for more information.  You may need to contact the professor/department (search for their contact information at www.dal.ca or via another search engine) to seek an override, Admissions, request an overload, or the Registrar's Office for assistance.
"

Fixed Duration OLR Classes" aka Open Learning courses require an extra step where you must copy in the start date and click the Confirm button to get registered.
Need to add a course after the registration deadline has passed?

Once the deadline to add courses has passed, you will need to use a Class Add/Drop Form to register for courses. Fill out the form with the courses you want to add, and take it to the professor(s) of the course(s) to approve. Once you have their signatures of approval on the form, take it to the Registrar's Office to have the courses added for you. Please contact Student Accounts for information on late fees.
Undergraduate Class Add/Drop Form
Graduate Class Add/Drop Form (login required)
You can also use this form to add or drop courses if you have holds on your online registration. There may be some cases where course additions are not permitted due to holds. You can check with the Registrar's Office for more information.