Block registration

Some programs require Block Registration—meaning that you register in a block of courses.
To register
1. Log into Dal Online and choose Registration > Register for Classes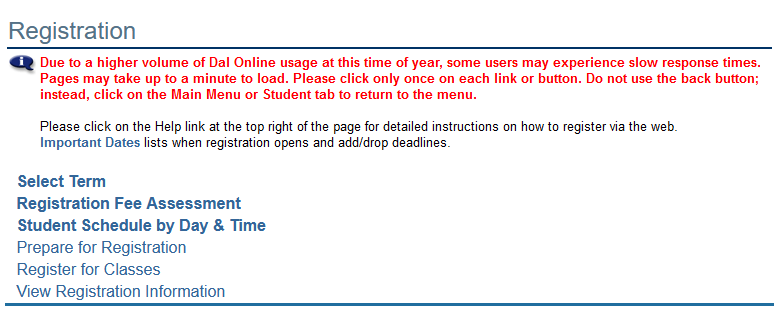 2. Select a Term amd click Continue.
3. Click the Blocks tab. You will see a list of blocks available for your program. 
Program

Code

Term to Select

Applied Computer Science (Year 1)
BACS    
Fall then winter
Computer Science (Year 1)
BCS
Fall then winter
Dentistry

DDS
Regular
Dental Hygiene

DDH
Regular
Dentistry Qualifying
DQP
Regular

Engineering
Year 1: Select one of the options from the course selection worksheet.

Year 3 & 4: get block information from department.

First Year Engi
 

See Dept

Fall then winter
Integrated Science
DISP
Fall then winter
Journalism

BJH1
BJH2
BJH3
BJH4
Fall then winter
Law
Law has several blocks, listed as "Law - Block #". The school will tell you which block to choose.

LAW
Fall then winter

Medicine

MD
Regular
Nursing (semester 5)

BSCN
Summer
Occupational Therapy (Year 1 and 2)
MSCOT
Fall, winter, summer
Periodontics (Year 1, 2 and 3)
Periodontics
Fall, winter, summer
PharmD (Year 1)
PharmD
Fall then winter
Pharmacy (Year 2, 3 and 4)
BSCPH
Fall then winter
Physiotherapy (Year 1 and 2)
MSCPT
Fall, winter, summer
Postgraduate Medicine
PGM
Regular
Postgraduate Pharmacy
PGP
Fall then winter
4. Select the required block using the radio button and click Submit (bottom right hand corner of the screen. 

If you're not required to take all the courses in the block, you will first have to Submit the whole block, and then you will have the option to drop individual courses via the Summary panel.
Review the Block Registration video to see what this would look like; and the Registration Videos page for more information.