Georgia Klein
Georgia Klein came to Canada in 2007 from Germany for Post Doc studies at Mount Allison University in Sackville, NB. Georgia was appointed in 2014 as a Limited Term Appointed Faculty member at the College of Sustainability. Presently, she is also the College's Interim Associate Director for the Fall term of the 2023-24 academic year. She enjoys teaching, or co-teaching, many different SUST courses, and is excited to connect students with meaningful, local research projects through their Honours thesis or through independent studies.
Georgia loves making connections and networking with people interested in change, both inside and outside the College. These connections also give College students the opportunity to meet people working on local environmental and community-based issues. Her hopes are to keep students, their education and talents in our province. Georgia's favourite part of the College is the interaction with students and her colleagues and its unique "family" community feeling.
Georgia is involved with several groups outside of the College, including groups that focus on flood and storm water management, and how to transition into a more sustainable and socially just future. Her research revolves around eco-anxiety and how coastal communities can adapt to future changes. She is currently part of the SSHRC grant funded research project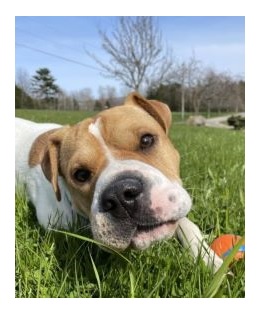 "Towards a coastal adaptation and vulnerability assessment model for tourism in small coastal communities". The group will develop a vulnerability index that allows the South Shore community of Lunenburg to evaluate their resiliency/vulnerability to fluctuating tourism, which is an important economic factor for Nova Scotia's communities. The experiences and skills from this project will go straight into our classes and be taught as case studies, or through place-based learning on field trips.
Georgia loves skiing, kayaking, rock climbing, and biking. One of her favourite pastimes is horseback riding, and she also loves roaming the beaches and woods with her rescue dog, Darla (pictured).