ESS Lecture Series Schedule


ESS LECTURE SERIES
Thursday evenings in the Fall and Winter semesters, 7:00-8:30 PM (Atlantic Time), Ondaatje Auditorium, Marion McCain Building, 6100 University Ave.
Since 2010, the College of Sustainability has hosted a weekly ESS (Environment, Sustainability and Society) Lecture Series that is open to the public. Local and international scholars, journalists, social activists, artists, public intellectuals, and elders share their wisdom and experience on wide ranging topics related to environmental sustainability, social justice, Indigenous perspectives, and the impacts of climate crisis.
For several semesters during the COVID pandemic, the lecture series was presented virtually on Zoom. Going forward, the series will be presented in a hybrid format — with most speakers in person in Ondaatje Auditorium in the McCain building as well as livestreaming to Zoom. Please write to sustlife@dal.ca to obtain the Zoom link each week or to suggest a future speaker or topic.
Many of the best talks are available to replay on the College's Vimeo channel.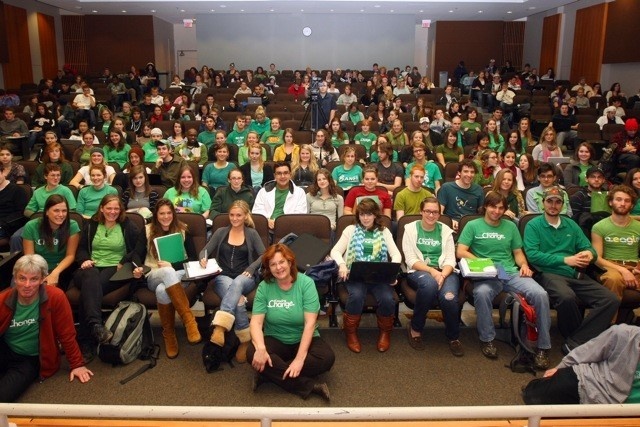 --------------------------------------------------------------------
Thursday 8  September - College of Sustainability Welcome Back and Orientation 
--------------------------------------------------------------------
Thursday 15 September - Why Prison Justice is Environmental Justice
El Jones is a poet, journalist, professor and community advocate living in Halifax, Nova Scotia. She was the fifth Poet Laureate of Halifax and a 2015 resident of the International Writing Program at the University of Iowa. Jones has performed all over Canada and recently successfully defended her PhD in Cultural Studies at Queen's University and is an assistant professor in the Department of Political and Canadian Studies at Mount Saint Vincent University. She is dedicated to using poetry to engage youth and as a resource for prison outreach, finding her inspiration in the Black community of Nova Scotia.
-------------------------------------------------------------------------------
Thursday 22 September - Sustainable Building Retrofits
Nick Rudnicki is the CEO of RSI Projects, a residential building and renovation company in operation since 2011. His experience on numerous new house builds led to an awareness that the carbon emissions and climate impacts of constructing new buildings is a significant contributor to the environmental crisis. Nick is now working to champion a maximally efficient and effective methodology for upgrading existing buildings. Leveraging his expertise as a Passive House trained builder, Nick is well situated to understand and navigate the building science complexities of deep retrofits.
-------------------------------------------------------------------------------
ONLINE: Thursday 29 September - The Environmental Effects of War in Ukraine
Natalia Gozak, Executive Director, EcoAction, Kjev Ukraine
Moderated by Anders Hayden, Political Science, Dalhousie University
Natalia Gozak is Executive Director of Ecoaction, one of the leading environmental non-governmental organizations in Ukraine. Ecoaction focuses on advocacy and public mobilization in the spheres of energy transition and climate change, environmental impacts of agriculture and industry. Natalia has 15 years' experience in the environmental civil society movements, from local grassroot NGOs to big international organisations (before joining Ecoaction, Natalia worked for WWF-Ukraine and UNDP). She holds an M.S. and B.S. in ecology and environmental sciences from the National University of Kyiv-Mohyla Academy, and has expertise in climate change, nature conservation and the work of civil society. 
-------------------------------------------------------------------------------

ONLINE: Thursday 6 October - The Day the World Stops Shopping
J.B. MacKinnon, University of British Columbia
J.B. MacKinnon is the author or coauthor of five books of nonfiction. An award-winning journalist, his work has appeared in such publications as the New Yorker, National Geographic, and The Atlantic, as well as the Best American Science and Nature Writing anthologies. He is an adjunct professor of journalism at the University of British Columbia, where he teaches feature writing.
MacKinnon's latest book is The Day the World Stops Shopping, a thought experiment that imagines what would happen—to our economies, our products, our planet, our selves—if we committed to consuming far fewer of the Earth's resources. Previous works are The Once and Future World, a bestseller about rewilding the natural world; The 100-Mile Diet (with Alisa Smith), widely recognized as a catalyst of the local foods movement; I Live Here (with Mia Kirshner and artists Michael Simons and Paul Shoebridge), a 'paper documentary' about displaced people; and Dead Man in Paradise, the story of a priest assassinated in the Dominican Republic, which won Canada's highest prize for literary nonfiction.
-------------------------------------------------------------------------------
Thursday 13 October - Samqwan 
Sarah Prosper

Dancer and Artistic Director of Samqwan, Sarah (Sali'j) Prosper is a 22-year-old L'nu woman (she/her) from Mi'kmaq First Nation community Eskasoni (Wekwistoqnik ~ land of the fir trees). She has a B.Sc. in Therapeutic Recreation and is ADAPT-Certified, currently studying in Indigenous healing through Movement in the Masters of Arts in Leisure Studies program.
An accomplished creator and leader in the arts, dance, and culture, Sarah has performed, collaborated, co-created, co-produced, and consulted in Indigenous-inspired multidisciplinary, interdisciplinary, and intergenerational productions, most recently: Koqm (shalan joudry), Nutuwiek? (NS Choral Federation), Alan Syliboy & The Thundermakers (co-presented with Symphony NS), Fluid Forms ~ Utawtiwow Kijinaq (Mocean Dance & Sara Coffin), Ki'kwa'ju: Reimagining Prokofiev's Peter & the Wolf (Fountain School of the Performing Arts, Christina Murray & Shelly MacDonald), and Lost Soul Rodeo (George Woodhouse & the Public Service). Board of Directors with Dance NS, Kinetic Dance, Surf Association of NS, & The Dance Institute. 
Sarah creates and moves through topics of intergenerational healing, history, health, wellness, and truth and, through these elements and stories of our history and the land, uplifts contemporary Indigenous artistry with an approach that is guided by Mi'kmaq spirituality. Sarah hopes to incorporate Indigenous creativeness in movement of all forms and help others find their inherent ability to move freely with Ms~t No'kmaq (All My Relations).

-------------------------------------------------------------------------------
ONLINE 7:00-8:30 PM AST:
Thursday 20 October - Seabirds as sentinels of marine ecosystem health and environmental change

Emily Choy, McGill University, Montreal

Annual RAM Myers Lecture presented by Dalhousie's Biology Department

Dr. Emily Choy is a postdoctoral fellow at McGill University and Environment and Climate Change Canada studying the effects of climate change on Arctic seabirds and marine predators. She has worked in many remote locations across the Canadian Arctic and is an Explorer-in-Residence with the Royal Canadian Geographical Society. She also holds a B.Ed in Outdoor and Experiential Education and is a well-known science communicator.
-------------------------------------------------------------------------------
Thursday 27 October - Film Screening and Discussion

Inhabitants: Indigenous Perspectives on Healing Our World
Inhabitants follows five Native American Tribes across deserts, coastlines, forests, and prairies as they restore their traditional land management practices. For millennia Native Americans successfully stewarded and shaped their landscapes, but centuries of colonization have disrupted their ability to maintain traditional land management practices. From deserts, coastlines, forests, mountains, and prairies, Native communities are restoring their ancient relationships with the land. As the climate crisis escalates these time-tested practices of North America's original inhabitants are becoming increasingly essential in a rapidly changing world.
Watch the trailer here.
-------------------------------------------------------------------------------
Thursday 3 November in ScotiaBank Auditorium (Marion McCain building)
Canadian Chamber Choir, with Aaron Prosper

Thursday 3 November in ScotiaBank Auditorium (Marion McCain building)

Where Waters Meet: Canadian Chamber Choir, with Aaron Prosper

The Canadian Chamber Choir (CCC) creates, celebrates, and communicates Canadian identity through choral performance and education. As Canada's only professional choir with national representation, the ensemble is passionate about building community through choral singing in communities large and small across our country. The CCC is a 22-voice professional choral ensemble made up of singers from Newfoundland to British Columbia to the Northwest Territories, led by Dr. Julia Davids (Artistic Director) and Dr. Joel Tranquilla (Associate Conductor). 
Since its founding in 1999, the organization has been an ardent champion of Canadian choral music, and the CCC almost exclusively performs repertoire by Canadian composers and arrangers. Their first two recordings, In Good Company (2010) and Sacred Reflections of Canada (2015) were widely acclaimed. The latter was nominated for a 2016 JUNO Award for Classical Album of the Year: Vocal and Choral. The CCC's latest CD, Seasons of Life and Landscape, was released in October 2019. 
As an organization, the CCC is striving to learn from Indigenous perspectives and ways of knowing, and to use art to engage actively with the National Truth and Reconciliation Commission of Canada's Calls to Action. In acknowledging (re)conciliation as action-based, in 2017 the CCC commissioned Yellowknife composer Carmen Braden to compose a multi-movement work about water from both non-Indigenous and Indigenous perspectives. The piece, entitled Where Waters Meet (WWM), includes texts by the composer, by  the CCC singers, and by Ojibwe/South Asian poet Yolanda Bonnell. Two of Bonnell's poems are set to music in Where Waters Meet: Nibi (which means 'water' in Ojibwe) and McIntyre, which refers to the McIntyre River that runs through Thunder Bay, Ontario. The McIntyre is also called the River of Tears because of the history of violence against Indigenous peoples there. 
Where Waters Meet was designed to feature an evolving cast of collaborators, as the CCC disseminates this work across the country and explores meaningful reciprocal relationships with Indigenous artists, Elders, consultants and communities. After myriad consultation and sharing sessions on Zoom and a March 2020 tour that was sidelined due to the pandemic, the CCC is beyond thrilled to be collaborating with Nova Scotia's very own Aaron Prosper – a talented Mi'kmaw drummer, singer, cultural advocate and administrator. He will join the ensemble for three performances of Where Waters Meet in Parrsboro, Truro and Halifax this November, including the more interactive panel format unique to this event at Dalhousie. Attendees will gain insight on the role of the arts as activism and a vehicle for positive social change, using Where Waters Meet as a springboard for discussion. Joining Aaron Prosper, the CCC Artistic Team and singers in this important conversation will be Sherryl Sewepagaham (Cree-Dene composer, educator, music therapist and curriculum author) and Dr. Danielle Sirek (Assistant Professor of Arts Education – Faculty of Education, Western University).
-------------------------------------------------------------------------------
Thursday 10 November - Fall Study Week - No Lecture 

-------------------------------------------------------------------------------
Thursday 17 November - The Environmental Consequences of Computing
Steve Jackson, Cornell University
Steven Jackson is an Associate Professor in the Department of Information Science and Department of Science and Technology Studies at Cornell University as well as the former Chair of Information Science and Dean of William Keeton House. Jackson's research connects contemporary questions in information science to theoretical and methodological traditions in the critical, interpretive, and historical social sciences. He is especially interested in places where new computing forms and practices meet the material world, with implications for sustainability, development, inequality, and new (and old) cultural practices, including in art and music. He is also interested in the messy and uncertain moments in which new technologies meet unsettled ethical and legal terrains. Since 2022, he has led the development of the Computing on Earth Lab, a multidisciplinary effort dedicated to exploring the planetary dimensions and consequences of computing.
-------------------------------------------------------------------------------
Thursday 24 November - Food Systems Advocacy and Sovereignty in Canada
abra brynne
Abra Brynne is a nationally respected policy analyst and sustainable food systems advocate. She has been involved in community-based food systems work most of her life. With a background in agriculture, she began integrating indigenous food systems and sustainable fisheries into her work in 2006. She works throughout BC and Canada as an advisor, analyst, and mentor. 

Abra has a strong interest in value chains and the regulatory regimes that impede or support them. Abra's passion is to problem solve in order to lower the barriers, both regulatory and otherwise, for small and medium-scale businesses to thrive in place-based food systems. She has worked on policy advocacy and transitions in the fisheries, meat, cannabis, and organic sectors, and on policy at the intersection of climate change and food systems. Abra is a founding member of many agriculture and food-related organizations, including the Central Kootenay Food Policy Council, the BC Food Systems Network, the Canadian Biotech Action Network, Food Secure Canada, and the Canadian Association of Food Law & Policy. 

-------------------------------------------------------------------------------
Thursday 1 December - No Lecture
--------------------------------------------------------------------
For more information contact:
College of Sustainability Reception Desk            
902-943-2193      sustainability@dal.ca
Debra Ross                                                     
Manager of Outreach, Partnerships and Communications
902-494-7805       cos.comm@dal.ca