Margarett Enniss‑Trotman
Margarett Enniss-Trotman MDE '96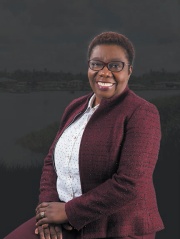 The MDE program provided Margaret with a theoretical foundation in economics as well as practical exposure .
Margarett Enniss-Trotman (MDE 1996) is the Corporate Planner at the Workers' Compensation Board of Nova Scotia, a role that sees her leading its strategic planning and budgeting processes to support the attainment of numerous company goals and outcomes.
Her specialties include strategic planning, economic and environmental monitoring and analysis, corporate performance reporting and evaluation using a balanced scorecard. To that list she adds reporting on progress with strategic initiatives, assisting with institutional research and supporting the development of creative solutions to organizational challenges.
Margarett credits the development of most of these skills to the MDE program, which provided her with a theoretical foundation in economics as well as practical exposure as a development and policy analyst with strong research, analytical, reporting and statistical skills.
A Guyanese native, Margarett holds a Bachelor of Arts in Geography with a specialization in urban and regional planning from the University of Guyana (1987). Upon the completion of her graduate degree, she served as a lecturer and Head of the Department of Economics at the University of Guyana, and as a sessional instructor in the Department of Economics at Dal.
In addition to her strategic planning and teaching experience, Margarett is a newly published author and blogger. Her memoir, "I Remember That: A Collection of Cherished, Unforgettable, and Lasting Memories," charts the life of a little girl—and a young woman—growing up in a large nuclear family in post-colonial Guyana. It is available on her website (www.ladyguianasmusings.com) and amazon.com. Margarett serves as vice president of the Board of Directors of the Parker Street Food and Furniture Bank, a charity dedicated to feeding the hungry in Metro Halifax. She lives in Lower Sackville with her husband and daughter who is also a Dal alumna.