Julia McGee
BSc (Honours in Economics) 2019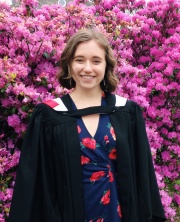 I believe that the ability of economic theory to be applied to such a diverse range of topics is one of the greatest strengths of economics as a field of study
I came to Dalhousie because the Architecture program appealed to me. It only took me about a month to realize that this path I had envisioned for myself was actually not well suited for me, leaving me in an undeclared Bachelor of Arts with no clear idea what I wanted to do. Some friends I made were Commerce majors; thinking a minor might appeal to me, I took one of the requirements to fulfill this in the winter semester, Principles of Macroeconomics. Immediately I was hooked.
I started planning my classes with the intention of completing an Honours thesis, which lead me to take a variety of Economics and Statistics courses, my favourites of which were International Finance and Monetary Policy. These classes helped me to realize my areas of interest which eventually helped in research regarding my thesis and choosing which schools to apply to for a Masters. I also particularly enjoyed the independent research required in several courses; beginning with simple regression analysis in Econometrics I and culminating with the Honours thesis. I put a lot of effort into these projects, and was proud to be the recipient of the Honours Thesis prize this year for my work regarding the effect of international organizations' actions on government bond spreads in the Eurozone during the sovereign debt crisis.
The support I received throughout my four years from the department was outstanding; I always felt I could approach my professors with questions, and their guidance strengthened my belief each year that I was on the right path for me. The attention that the faculty puts into each student's education is paralleled by the quality of teaching I received, not only equipping me with the academic tools to pursue further education but also giving me confidence going forward. I learned many (often hard) lessons that made me stronger, and I know there are more which I will grow to appreciate with time.
I am attending the Barcelona Graduate School of Economics for my Master's in Economics commencing in September of this year; I have plans for a PhD as well. I'm very excited to take what I have learned at Dal with me as I step into this new challenge. While I know (at least I think I do) what areas I want to focus in, I am hoping to gain some new perspective both on themes I am familiar with and those I am not. I believe that the ability of economic theory to be applied to such a diverse range of topics is one of the greatest strengths of economics as a field of study. At a time where we are seemingly at a critical point regarding many global issues – culturally, systemically, and environmentally – the critical thinking and research skills that studying economics yields are crucial in our rapidly changing world.