Christopher MacDonald
MDE 1999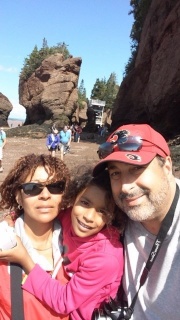 A great adventure that began at Dalhousie in the MDE program
Imagine flying in a military jet simulator in Cold Lake, Alberta, or reviewing a highway project being built on permafrost from Inuvik to Tuktoyuktuk, Northwest Territories. Imagine learning how to detect land mines on pre-deployment training to go to Afghanistan, or working in the UAE with colleagues from four countries auditing a multi billion-dollar contract. Or even imagine driving around in a bulletproof SUV as you are conducting work at a Canadian embassy overseas!

What does this have to do with Dalhousie University, the Economics Department, and the MDE program? Let me explain by sharing with you the journey that I have been on.

In 1999 I graduated from the MDE program. MDE was the perfect program for me. I never knew what I wanted to be when I grew up – and in many ways I am still exploring new possibilities – but I do know now that the MDE program prepared me for the journey that I am travelling. The program's focus on critical thinking, developing writing skills, communication skills, and collaboration created a foundation for me to work effectively in different environments and be open to, and comfortable with, change. I had many exceptional professors and studied with wonderful colleagues. One of those colleagues is Michelle Maragh, a fellow MDE grad who I met during my time at Dalhousie, and to whom I have been married to for 20 years.
After graduation, I started working at the Office of the Auditor General of Canada. While I had no audit experience, I did have knowledge and capabilities gained through my studies that allowed me to learn quickly and conduct audits of national defence programs and other subjects. In many ways the skills I learned at Dalhousie prepared me very well for life as an auditor.

After a few years, I set out on new adventures that brought me to various positions in nine federal public service departments. From 2001 to 2005 I worked as a Policy Analyst at Health Canada and Business Planner for the Royal Canadian Navy. In the summer 2005 I realized that my true passion was audit.
In September 2005 I became an audit manager with Immigration, Refugees and Citizenship Canada (IRCC) and I have been in internal audit ever since. My work at IRCC and later at Global Affairs Canada brought me to 15 countries. My work at Finance Canada and the Treasury Board of Canada Secretariat provided great opportunities to learn about the role of these central agencies and the budget and policy development processes.
In December 2011 I started a two-year assignment with the Supreme Headquarters Allied Powers Europe, North Atlantic Treaty Organization (NATO). This was an amazing opportunity and I got to work with colleagues from all member countries. Upon coming back to Canada in December 2013 I took on the role of Director, Internal Audit with Infrastructure Canada. There I learned how grants and contributions are used to fund infrastructure projects across Canada. In this work I travelled to six provinces and one territory to meet with officials and review major projects.


Since December 2017 I have been the Director General, Chief Audit and Evaluation Executive at the Public Service Commission of Canada. I have led audit and evaluation teams in reviewing internal administration and external program delivery in the areas of government staffing and recruitment. It is a very rewarding job and one that for me has its roots in my MDE training.
While I have had an amazing career so far and had many unexpected experiences, I can also say that my story is not unique in our household. Michelle has been a manager for almost 20 years in over 8 federal public service departments. She has held leadership positions in policy, program evaluation, socio-economic research, and most recently data analytics.

We are proud to say that we are MDE graduates. We keep in touch with some of our friends and former professors; in fact, I always make time when I am in Halifax to visit Ian McAllister and his family, and to stop by the Economics Department. These trips have, on occasion, taken me to Dalplex where each time I have suffered defeat in badminton by the formidable Talan Iscan!
My life changed forever at Dalhousie. I obtained a very valuable education, I met my wife, made great friends, and learned so many valuable lessons that I carry with me to this day.