Jiawen Wang
BSc (Hons in Economics) 2018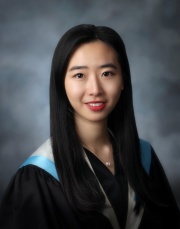 The Department of Economics at DAL has had a profound impact on my academic achievement and broad career path
My name is Jiawen Wang , and I graduated from Dalhousie University (Department of Economics) in 2018. After that, I obtained an MA degree from the University of British Columbia in 2019.
As an international student and a graduate of the 2 + 2 program at Dal, I am grateful for the support I received from the faculty members in Economics who helped me deal with language barriers, improved my self-confidence, and stimulated my interest in economics after arriving in Canada for the first time.
I was originally interested in econometrics in order to better understand how economics, mathematics and statistics connect. Econometrics uses statistical techniques to understand economic issues and has a set of useful tools that combines economic theory with available data. I think Dalhousie's economics program does a great job of helping students learn and use statistical software to analyze economic data, and successfully finish their honours thesis. Writing a thesis not only improved my ability to collect data, but also enhanced my critical thinking skills.
My BSc. Honours degree at Dal opened up a lot of doors for me, helping me to further my studies as an MA student at UBC. My studies have trained me to handle all aspects of data analysis, research, and economic reasoning. Given my academic experiences, I came to be an out-of-the-box thinker who is comfortable working in teams or independently to ensure that results consistently achieve or exceed goals.
To further pursue my interest in econometrics, I am currently volunteering for the office of institutional research and analysis at McMaster University, which is definitely a good opportunity for me to accumulate work experience. By analyzing a rich dataset and developing different business models, I improve my skills and learn how to handle quantitative and qualitative research, support a new system, assess trends, foster process improvements to solve complex problems.
The Department of Economics at Dal has had a profound impact on both my academic career and professional career path. An economics degree gives me a set of analytical skills that can be applied in a range of scenarios and circumstances.
Thank you, Dalhousie, Thank you, all Professors for your willingness to share your passion for Economics with your students. It meant lot to me during my student life.