Tammy Schirle
MA, 2000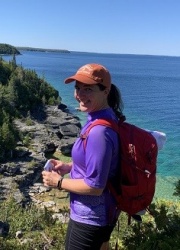 When I think back to the day I decided to pursue my MA at Dalhousie, I'm still confident it was the best decision.
I graduated from Dalhousie with a Master of Arts (MA) in 2000. During my studies, I found myself torn between my interests in economic development in lower-income countries, and Canadian labour market policies. After graduation, I found an opportunity to work in economic development, as an intern sponsored by the Canadian International Development Agency. That internship took me to work in Romania for a microcredit organization, making great use of my training in development economics as we developed strategies to manage risk while supporting business opportunities for local entrepreneurs.
But my love for Canadian policy work brought me back to Canada, and I decided to pursue a PhD in economics at the University of British Columbia. I spent 5 years in Vancouver, where in addition to hiking many mountains with my partner, I found myself working with some of the best labour economists in the country (whose research projects often involved their friends and coauthors at Dalhousie). I finished my PhD in 2006 and found myself working as a professor with Wilfrid Laurier University's Economics Department. Settling into Kitchener, Ontario came quite naturally to me and my partner, and we decided to stay and have our family here. I've enjoyed teaching at Laurier, and my research has focused on understanding the Canadian labour market and public policy, especially the importance of income support policies and the unique circumstances of women in the economy.
Apart from the usual academic pursuits that come with being a professor, I find myself in roles I never expected to be in. I've met with many politicians from many political parties over the years – MPs, MPPs, Senators, and even the Prime Minister – to talk about policy gaps that need to be addressed and ideas for how best to manage that. I find myself on television explaining public finance issues, or job numbers, trying to help everyone make sense of the statistics. When the COVID-19 pandemic began, I found myself in working groups trying to piece together feasible policy options to support families, and regularly fielding calls from journalists trying to sort through everything happening in 2020. It has kept me very busy, but it's also a lot of fun. (When my daughter sees me on TV, she tells her friends I'm kind of famous, and it's cute.)
When I think back to the day I decided to pursue my MA at Dalhousie, I'm still confident it was the best decision. At the time, it was a little scary. I had grown up in a small northern Manitoba town, so even moving to Winnipeg to do my undergraduate degree at the University of Manitoba seemed a big deal. In hindsight, moving from Winnipeg to Halifax was the best thing for me. I got to live by the ocean for a while, offering a wonderful contrast with the prairies. I made many amazing lifelong friendships while living in Halifax. Perhaps more importantly, I found an economics department where the professors were welcoming and ready to support me in learning new tools and new ideas.